What are the 11 most common freelancer mistakes?
Don't focus on sales

Don't follow up with prospects

Don't give your prospects value

Don't build relationships

Don't upsell your services

Wait until you're finished one project to start another

Don't define your audience

Don't communicate

Make working with you hard

Choose only one platform

Assume work will come to you
11 common freelancer mistakes and how to fix them:
Don't focus on sales
Let's face it, freelancing is business, and cash flow is the lifeblood of any business. When you focus solely on being a great designer, developer, writer, or assistant and skip sales, you're cutting off circulation to your business.
Focus on leads first, aim to contact as many potential clients every day as possible, and a minimum of 30-40, and you'll build the beating heart of your business and sales. To have a successful freelance career, developing potential clients daily is critical.
Every day you miss prospecting is when a potential client will choose other freelancers. Many students ask me, "how do I know when I'm ready to start selling?" My answer is, "You're ready now." And it's the truth!
When diving into the freelance world, the common freelance career mistake people start with is thinking they're not ready. Your one-person business requires business development to be profitable. Practice makes perfect, so even if you don't have work to show prospective clients, you will learn what they want to see, what they want to know, and how to communicate with them.
Don't follow up with prospects
A surefire way to make sure you kill your sales opportunities is to drop a pitch on a prospect, then vanish. There is marketing research called the "Rule of 7" where your prospect needs to see your message at least 7 times to take action.
This isn't an invitation to be annoying. How do you know if you're being annoying? Every message you send should benefit your potential client. If it's not, you're annoying.
Every successful freelancer understands that freelance jobs rarely come upon first contact. Take the productive attitude of always following up with each potential client and be constantly bidding on new projects.
Don't give your prospects value
You hear this all the time in 2023 "Your content must provide value!" And it sounds so lame, and it is because the most value is some sort of pitch. Here's a tip, when you're talking to a prospect, give them leads for their business.
Want to provide real value? Say, "I came across these 3 opportunities for your business." Don't even jump into what you do, just give them some opportunities, and you're almost guaranteed a response. Keep on growing!
Don't build relationships
People want to work with two types of people. Ones they like and ones they want to be like. If you're just starting out, you probably don't have any clout in your industry, so aim to be liked by your prospect.
An easy way to do this is to show respect when talking one-on-one. Take notes, ask questions, find ideas the client has developed, and compliment them. Simply being nice to people goes a long way. Keep on growing!
Don't upsell your services
You've about finished up your project and prospecting for new clients. Hold on! You know you have a client, right in front of you? Right? Go back to your current client and upsell them a new service.
But how? Here's how: Next time you finish your project, give the client 3 options, 1 that's about the same cost as the current project, 1 that's higher, and 1 that's lower.
Wait until you're finished one project to start another
You're so happy you got the project, using 100% of your time to finish it and no time on anything else. Focus on your project is great, but 100% focus makes you walk through the desert of zero opportunities once the project finishes.
Ensure you're looking for new clients and upselling current clients daily. I always recommend at least 30-40 contacts daily.
Building daily or weekly willpower to sell continually will be much easier when you have a steady stream of income. One of the top freelancer career mistakes comes from waiting until you have delivered your project to start looking for the next one.
Don't define your audience
Everyone with a business needs a website! Yes, that's true, but "everyone" is not an audience. To find your ideal client, ask, "Where am I in the project path?" surround yourself with people next to you along this timeline, as they are your main clients.
Don't communicate
This one took me a long time to learn. Clients really don't understand the process, and being a great communicator, checking in each day will go a long way to keeping them happy and confident that you're working on their project.
You avoid problems or requests for long one-on-one meetings when communicating well. Sending a 1-minute email each day saves you hours per week.
Whether you're just giving a daily update or going to miss deadlines, communication will be immensely helpful. Communications helps you define expectations and avoid freelance career mistakes.
Make working with you hard
What's their email? Wait, no website? Portfolio only on Google Drive? DM on Instagram? If you want a successful freelance business, you need a proper brand, not a fractured one. Set up all of your accounts under a clean username, not Princess4567.
Start with your name, then a brand name, then start building out your website, social media channels, and freelance accounts.
Choose only one platform
You're playing a dangerous game if you get all your work through LinkedIn, Upwork, or Fiverr. Being a single-tier freelance on only one platform can be crushing if there is a change to that platform, or worse, you get de-platformed.
Always diversify where you build your freelance business; it should be omnichannel, where you're developing business on at least 3 different platforms.
Don't put all your eggs in one basket. This is true for almost every aspect of life (outside of family), and ensuring that you spread yourself over at least 3 platforms is a way to diversify your income as a freelancer.
The most common freelance mistakes come from choosing one platform, tripling down on it, and spending a massive amount of time there, only to have it not work. You're much better to build your website, sign up for Upwork and Fiverr, and be active on social media platforms like LinkedIn than to choose just one.
If something goes wrong on the only platform you're on, you can find yourself in the desert very quickly. My advice, pick 3 platforms. In my case, I use my Website, Upwork, and LinkedIn as my top 3.
Once you have picked your top 3, try to balance it in terms of income, with at least 1/3 of your income coming from each channel. It will never be exactly right, but the closer you get, the more balanced and comfortable your life will become.
Assume work will come to you
This one is absolutely deadly to freelancers. You spend loads of time building a beautiful portfolio website, your presentation is amazing, and your freelance platforms profiles and social media profiles look amazing.
Then you sit back and wait for the clients to knock on your door. A recipe for disaster. The best freelancers go out and make sales contacts every day. You should aim for both inbound leads (which you get by making content) and outbound leads (which you get by making contact).
Even if you deliver high-quality work, waiting for clients to come to you is poor time management. Experienced freelancers know that once you have your channels setup, you must still go out and get as much work as possible.
The freelance lifestyle is great, and avoiding common mistakes, freelancers make will help you leap ahead of the competition.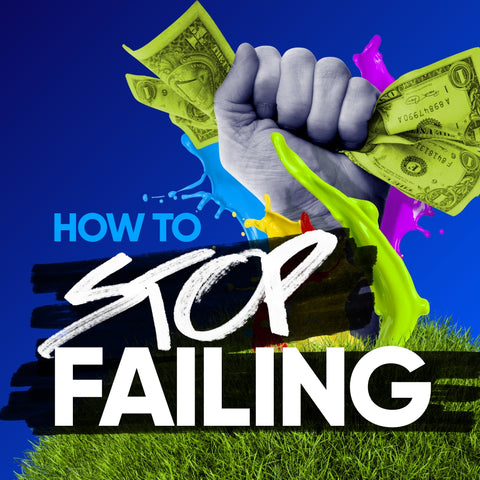 How to Stop Failing at Freelance - What Mistakes Do Freelancers Make?
Then, pick one of these:
---
Third, try these:
---