As a freelancer, you know you need to show off your work, and the "anything is better than nothing approach works," but what is the BEST solution for your freelance portfolio?
You don't want to keep building your freelance portfolio over and over on different platforms, so selecting the right website host for your freelance portfolio is vital. It's a critical step in your freelancing business because, like my site, you will be working on it for decades as your freelance business grows.
But I can build a profile on Behance or Dribbble and be done, right?
Yes, you should be on those platforms, but remember that when clients are on those platforms, they can directly compare your work with others, but the "paradox of choice" comes into play here.
"It becomes harder to choose the increase in choices becomes available."
Comparison is also the thief of joy. You should always try to develop your sense of style as a designer and resist the urge to turn inspiration into copying.
When you have your portfolio website, you can focus on your work instead of endlessly scrolling and comparing. You can also walk customers through your process in the way you want.
Website Hosting
As I run my portfolio website on Shopify, I recommend the platform to every client, regardless of whether they want the eCommerce portion of the website builder.
Adding eCommerce functionality later on and expanding your services to include online ordering directly through your portfolio website is vital to building a successful freelance business.
Website Builder
There is a load of website builders out there, but nothing matches the ease of use of Shopify. When choosing a website hosting for your online portfolio website, you should start with the free plan, get set up, and launch your minimum viable product as quickly as possible.
Remember that your website will never be done (even after twenty years, I'm still working on mine), and there is no disadvantage to making your Shopify portfolio website live.
Portfolio Websites for Freelancers
Web hosting is also plentiful online, and your portfolio site needs a home. Shopify is an excellent choice because it gives you your home online. You can easily connect social media channels to your portfolio site and show that you are a well-distributed freelancer who can work on various platforms.
Custom Domain Name for your Online Portfolio
It's a professional touch when you add a custom domain name to your Shopify portfolio website using their website builder. You can either register your domain directly through Shopify or use a service like GoDaddy to buy a domain name and quickly connect the domain name.
By purchasing your custom domain name, you can also have a professional email address. Custom domain name based emails are also better for email newsletters, and free email services like Gmail or Hotmail often end up in Spam.
Unlimited Storage for your Portfolio Website
So far, I haven't found a limit to my Shopify portfolio website. With currently over 260 pages, there is no telling the limit. By giving you complete flexibility to add the content you want, Shopify gives you a great way to build your online portfolio.
I use the $29 per month package, and it has given me everything I need for the past six years. I believe, however, that the more expensive Shopify Plus package is the best once you reach over $60,000/month in sales because of the lower transaction processing fees.
Google Analytics for your freelance Online Portfolio
With Shopify, Google Analytics is also easy to install to monitor your traffic in more depth. But be careful going down the rabbit hole too deep, as paralysis by analysis can set in quickly. I think it is much better to continually revise your site and add content than to spend an equal amount of time looking at the numbers Google Analytics produces.
Potential Clients want a transparent Portfolio Website
When you use a website builder like Shopify to build your online portfolio, you allow the customer to view the work they like, then easily purchase your services by setting up products and quickly connecting a payment gateway.
It is a very reasonable expectation to have your site set up and taking orders in just a day, there won't be a polished experience, but I believe in starting somewhere, then overthinking it, and not doing anything to move your online portfolio forward.
Showcase Your Work with your Online Portfolio
You can show off an unlimited amount of work using the Blog in Shopify as I have with this site. You never know what your clients will resonate with, so add as much as possible and see what people are looking for. There is no cost associated with adding more to your online portfolio.
Tools to build the Best Portfolio Website
Whether you are a freelance writer, designer, or developer, Shopify gives you a great way to show off your work. With numerous customer support features like Chat, email, and online ordering, you can give your clients a fantastic experience.
Shopify is also very reasonable to pay for per month and won't break the bank. As a freelancer, you already have numerous tools you pay for per month, and it's excellent that Shopify keeps your costs reasonable.
Themes and Drag and Drop Editors
Shopify's new Version 2.0 gives you a drag-and-drop editor just like Webflow. If you have ever used Webflow, you will understand how long it takes to get up and running. Webflow as a website builder can also get extremely expensive with each new feature and add-ons costing much more than Shopify per month.
Although Webflow has started matching pricing for Shopify, I think it's more of a copying perspective. Webflow costs a significant amount more when you factor in your time.
Apps you need for your Online Portfolio
When you build your Shopify website, you will eventually want more and more functionality. The Shopify theme and app store make it inexpensive to try new add-ons before custom coding these into your website.
Writing for your Portfolio Website
There is a misconception that Shopify is bad for SEO, and search engine optimization is essential to a great site. I was able to rank on page one for many search terms essential to my freelance business with my Shopify website builder.
The Shopify platform has everything you need to structure your content correctly and add the correct formats, meta descriptions, and titles to ensure your portfolio website ends up on the search engine results page.
Read: How do I rank on Google with SEO writing?
Bandwidth
Shopify is a great way to scale your business by keeping bandwidth wide open. Unlike WordPress, which depends on your website host, Shopify doesn't constrain you.
This is great for popular designers and developers as they grow their businesses and create more and more work to publish on their portfolio websites.
Are you ready to start building your Shopify portfolio website? Start with a free trial of Shopify for 14-days, or if you want an Unlimited Free Trial, contact me directly.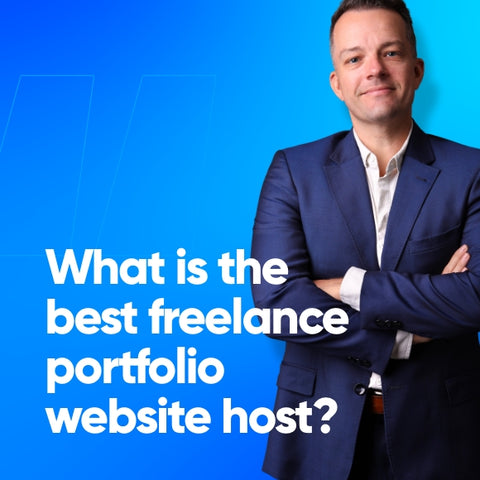 What is the best freelance portfolio website host?
Then, pick one of these:
---
Third, try these:
---