I felt like I was living under a rock when I first saw McGee & Co. on their Netflix Dream Home Makeover series.
Shea, her husband Syd, and their team at McGee & Co. put on an absolute masterclass of interior design while balancing a growing family and business. It's entirely impressive.
Women especially feel pressure to perform in all aspects of their lives, and watching my wife, I have incredible respect for the complex and painstaking task of motherhood alone, let alone combining a successful business alongside family.
McGee and Co.'s strategy has incredibly influenced what I'm attempting to do with my own life. Shea and Syd have unwittingly become quasi-mentors to my family as we see the possibilities and try to reach for them.
The balance of family and business is an obvious lesson, but instead of going for the low-hanging fruit, I want to dive deeper into some of the reasons their brand works so well and drives an exceptional business.
Lessons learned from McGee & Co. that we can apply to our businesses directly:
Omnichannel Presence

Brand Consistency

Strategic eCommerce
How does McGee & Co. leverage an omnichannel presence?
An omnichannel presence is a marketing and brand strategy that connects all aspects of the business.
McGee & Co. Shopify eCommerce and WordPress Blog Websites
McGee & Co. does a world-class job at their omnichannel branding and marketing, from an excellent Shopify eCommerce site at www.mcgeeandco.com to sell their products to a WordPress based Blog site at www.studio-mcgee.com to drive traffic.
It's unnecessary to have two websites to achieve their level of success. I think it's a "happy accident" that this happened. What's happened here is that the Blog came first as that domain is nine years old, and the eCommerce site is seven years old—building your brand by being influential first, growing an audience, then building a product line around them.
The strategy behind their websites makes sense, as WordPress was ubiquitous back then, and Shopify was not so much. Why didn't they migrate to Shopify and combine the sites? The potential problem of migrating the WordPress site to Shopify doesn't outweigh the benefit. With a 9-year-old blogging site, there is immense content.
Trying to 303 redirect all those domains and hoping there is no drop in organic traffic would be a costly experiment. When migrating a website to Shopify, it becomes incredibly time-consuming to do it right, and there is no guarantee of success.
McGee & Co. has an excellent domain rating for both sites, and having them interlink creates two highly dominant sites in their not-so-niche niche. If it ain't broke, don't fix it. The two sites feed each other and boost their domain ratings. Combining the two is reasonable and possible, but if your sites are this old and successful, it would be hard to justify the cost.
Their Shopify eCommerce site has a massive catalog of products, and their Blog has an immense amount of resources. They have done an excellent job of continually updating their content on a near-daily basis.
There are fashion items on the Blog website so customers can shop the brand's look, but it doesn't cannibalize any of the content on their interior design Shopify eCommerce store.
Why is the McGee & Co. Blog so good?
New posts daily

Each post is in-depth

Each post has custom photography

Each post has related articles

Each post has related products

Each post has an email sign-up

Each post has generous interlinking

Each post has correct technical SEO
Where could McGee & Co. improve their Blog?
With such perfection, it's tough, but one main issue is lead generation. 
Their blogs are so amazing, but on popular blogs, they could add a more in-depth eBook guide as a lead magnet, bringing in more customer contact information.
How does McGee & Co. use brand consistency?
Many in-your-face brands demonstrate brand consistency. Take McDonald's, for example. You see Red and Yellow, and you immediately think of the brand.
McGee & Co. also uses brand consistency with color, with off-whites, greys, and light tan color palettes. Even though their Logos are distinctly different, you can see the relationship.
The brand consistency extends far by using colors consistently. Their products, even the interior of their own home to the clothes they wear, are intentional decisions that unify the brand.
Shea's dresses have become the Steve-Jobs-Black-Turtleneck of interior design, and I guarantee it's emulated throughout the industry now by other designers. 
Shea and Syd pull off brand consistency with how well they unify all aspects of their brand, down to each decision for the interiors they design with the style they have crafted with expert detail. Judging by how referenced McGee & Co. is on social media, they have become a keyword for a particular style.
All because of maintaining brand consistency through everything they do.
How does McGee & Co. use an eCommerce strategy to win?
I discussed how they had used their standalone WordPress blog to increase the domain rating of their newer eCommerce site. It's an incredible strategy. They spent two years building a resource through their blog and social media channels, were able to identify their customer with pinpoint accuracy, then created a product line around the customer they identified.
How do you speed up this process? From my experience, it's challenging. If you want to build a brand from zero, you must work to build significant amounts of content. With each new piece of content, you are investing in your brand's future as you build relationships with potential customers and demonstrate your authority in that particular topic.
Too many brands reverse this process. They build a brand. Then they try to fit it into a market. Starting with the product first is incredibly difficult when you're brand new, as you're just flying blind, trying different markets, and seeing what sticks.
The truth is that many brands fail because they build the product first, then won't invest the time into creating the audience. Building an audience takes time, but it takes longer when you make the product first. The reason is simple when you build an audience. The product happens organically.
Steps to building your audience:
Start producing content you are interested in

Produce as many pieces of content daily as possible

Analyze what your audience responds too most

Break out 5-10 supporting pieces of content for each popular post

Repost content that is a few months old to new audience members

Once you have about 500-1000 pieces of content, begin monetizing
Monetizing an audience, you have built relatively simple. Over the first 500 or so pieces, you're going to see what people like and want. Start producing products strategically from here. As in my previous post, "How do I earn a full-time income with my Shopify site?" there are six income channels where you can monetize your audience.
The difficulty in building an audience first is that there is an extended period of no income. But that is also true when you are in the product development process. The great thing about building an audience first is that you can create products with far greater accuracy, leading to exponentially higher chances of success.
Generally speaking, when your audience sees you as an authority, and you become accessible and relatable, they will want to buy from you. They want to be like you and see themselves as relating to you. Customers won't buy a brand simply because it exists. Even if it's a commodity like a toothbrush, they want others to see them as making the right choice, being stylish, and buying the best.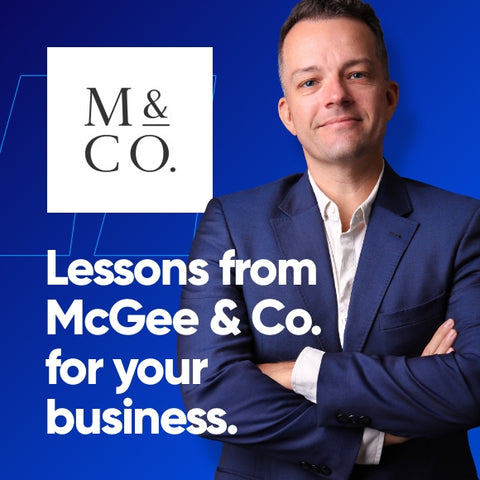 Lessons from the masters at McGee & Co. you can apply to your business.
Then, pick one of these:
---
Third, try these:
---