The short answer is Yes
Yes, Upwork is better than freelancer.com. The sheer scale, number of jobs, and ease of application to jobs are superior to freelancer.com. Upwork is also more suitable for new freelancers, primarily because its more equal opportunity compared to its competitors. The platform also has approval criteria, which keeps the platform's reputation strong, this in turn brings more clients to it. 
Upwork: In-Demand Talent on Demand
Upwork is the most popular freelance platform in the world, over time it has become more synonymous with freelancing than freelancer.com. Really! It has the largest market share at 10% of online freelancing, with millions of freelancers and clients across 180 countries. The talent available on the platform is also far and wide, with freelancers in all niches including design, web development, management, law and so much more. If it's possible to do it remotely, you will find someone on Upwork providing the service you need. 
Upwork also provides payment protection and milestones for projects, which makes it easy to track projects on the client end while ensuring that freelancers get paid. For communication, Upwork has an internal chat feature, and you can also schedule video calls within the platform itself. 
For a freelancer, getting hired is fairly straightforward. You see a job post, you send out and proposal, and if the client approves of you, you get hired. That simple. For freelancers, Upwork solves two major problems; finding new work and getting paid. 
Hiring Process
The Upwork hiring process is simple. As a freelancer, when you first sign up, you will have to apply for approval. Upwork will have to approve your profile to be on its platform, which is a neat feature because this way, they only have quality talent on the platform. In a case where your profile doesn't get approved, you can tweak your portfolio and submit collateral to try and get approved. This is usually straightforward, and if you have the relevant skillset, you should get approved with no problem. 
Read 3 Best Freelance jobs for beginners in 2023 or find out the easiest freelance career!
You search for jobs in the search bar, with keywords within their industry. You would then see job posts by Upwork clients, listed as hourly or fixed-price projects. Some hourly projects also have a range for the client's budget. The job posts also have a time duration, you can then filter short-term or long-term projects.
Once you find a job that meets your expectation and skill level, you apply by sending a proposal in the Cover Letter section. 
If your proposal convinces that client that they can potentially hire you, they can then send you an interview request. From there the client can begin a contract, by declaring the payment schedule, the length of the project, and any other deliverables. 
On Upwork, there are 2 payment models, one being the hourly contract and the other being the fixed price contract. Upwork will ensure that you get paid in both contract types, with either hourly protection or milestones. 
Upwork also has a desktop tool that you have to install on your local machine, to track and log hours. From here freelancers can document the work done in the work diary, where clients can review it as well. This comes in really handy when handling any disconnects or disputes. 
Commission
Upwork charges a percentage commission on all projects. It's like a tax you pay to Upwork before you pay tax to the government. The fee structure on Upwork starts at 20%, ultimately going to 10%, and 5% depending on how much you've billed from the client.  
This acts as an incentive for freelancers to complete more projects with the same clients and get large-value projects in general. 
The Good
Upwork has clients from large corporations to small businesses. There are multinational companies like General Electric, Airbnb, and Skillshare. So if you build your profile, you could work with the biggest names in a particular industry. 
Upwork also has a verification feature that ensures that there's legitimate, qualified talent on their platform. If you have your Upwork profile optimized, clients can find your profile easily from dearch. 
Upwork offers a certification and badge system as well, which recognizes quality freelancers, and helps them stand out from the pack. The badge system includes 3 tiers and the top-rated freelancers and above can see a boost in their hiring rate. This combined with its payment features has made Upwork, truly a force to reckon with. 
The Bad
The first thorn in Upwork's side is the fees it charges, especially at 20% on amounts up to $500 from one single client. So to get to 10% you will have to do a small project with almost every client. Even on large projects, the first $500 gets charged at 20%. From thereon, it's 10% up to $10,000, where it then becomes 5%. So on a $10,000 project, you will pay $950 in fees. The 5% tax is something only a few freelancers reach, and even then it's the same slab for every new client you onboard. 
The competition is also high. The talent comes from 180 countries, which means someone will always be there to bid lower. You have to build your profile with multiple jobs before you can charge the market rate for your work. 
Upwork operates on connects, which is a platform currency, costing about 15 cents per connect. While Upwork provides a certain number of connects to new freelancers and monthly connects as well, they aren't always enough. 
Check out How to get more Upwork connects for free?
Now we will look at some of the features of Freelancer.com
Freelancer: ​​Win Work and Earn More
With millions of registered users, freelancer offers jobs in multiple categories. Freelancer also has great resources section for freelancers to Upskill and learn new skills in their field, backed by industry leaders and community experts. 
There's a place for all kinds of freelancers, and you can sort locally posted jobs as well as find clients in your area. Imagine Upwork + Craigslist. The platform also has contests, where they can attract multiple submissions. 
Let's take a deeper look at the functioning of Freelancer.com
Hiring Process
The hiring process on freelancer is the same as Upwork wherein a client posts the job and the freelancers can bid for projects with a proposal. 
After a winner is chosen, the client can begin the job and initiate a contract. The employers can also post contests, where they provide a brief, and freelancers can then submit their work in hopes of winning. 
Freelancer also helps employers find full-time hires, wherein employers can find and connect with prospective employees without creating a job or a contest. 
Commission
Freelancer charge commissions in a different form and rate than Upwork. The platform charges a 10% commission or $5, whichever is higher on all projects. Hourly projects are also released after a 10% deduction from each payment you receive. Contests are also charged at a similar rate as projects on the platform.  
For members of the Preferred Freelancer Program, paid membership there's a deduction in the rate of commission levied at the end of a project from the total amount. 
The Good
Freelancer is the pioneer of milestone-based payments which are now also on Upwork. This has instilled some confidence in the site, that you won't have to chase clients to get paid. 
The site also offers projects in multiple languages including German, Spanish, and French. Upwork also has similar jobs, however, you can filter by language on Freelancer. 
There's also a featured work section on freelancer where a client can view your work and directly hire without posting a job or contest. 
All that being said, most of the features that freelancer offers can now also be found on Upwork and the platforms are more alike, except for the contest feature. 
The bad
The job categories on the platform are confusing both for the freelancers searching and the clients posting the jobs. It takes a long time to find the right jobs to apply to. 
The paid membership on the platform maxes out at $200, which still doesn't get you out of paying commission to the site on every job. This membership is also linked to visibility on the platform, so early freelancers with not much to shell, may not be found by clients. 
The verdict
Both sites are behemoths in the freelance marketplace industry. With the global freelance marketplace growing to over $1 Trillion, both will surely continue to grow. But who wins this Upwork vs Freelancer fight?
Well, freelancer has intense competition and with the bidding and contest systems, it's usually a race to the bottom for most freelancers. Upwork on the other hand offers freelancers opportunities to undertake larger and more serious projects. 
Finding the right job out of the 1800 categories on freelancer can be difficult if not impossible, Upwork on the other hand makes finding jobs much easier. The freelancer searches with just the keywords and would find all related jobs. Upwork also has a for you page which provides job suggestions based on industry and client history. 
Freelancer is good for clients who are trying to stretch the dollar and looking for a deal. With lower prices, the quality of talent and projects available is also subpar. The real value is created on Upwork.
Upwork has a neat verification system that ensures that a certain quality is maintained in all the work being done on the platform. This is great for clients as the talent on the site is made up of good practitioners. 
All of the advantages that freelancers had over Upwork have also been mitigated and the platforms are more similar than before. So given the choice, Upwork is a clear winner. Even though the fees are high, the features and the quality of projects make the fees palatable. 
So, should I pick Upwork?
The answer to that question is yes. However, you should consider both platforms when starting, to see which aligns the most with the freelancing work that you do. If we had to pick one, Upwork wins the crown!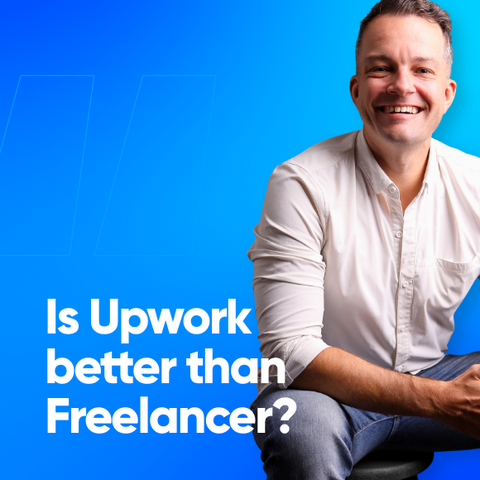 Is Upwork better than Freelancer.com?
Then, pick one of these:
---
Third, try these:
---