You've seen tech layoffs on LinkedIn, and everyone wanting a remote job that pays well. Here's how to start freelancing from home in 2023.
Where do you start with your at home freelance business? There are plenty of jobs to do, and the beauty of freelance jobs is you can try numerous different types and see what sticks with you. You can also mix it up throughout the year by trying different freelance jobs for a few months at a time to really start becoming specialized in a variety of freelance jobs.
With all of the layoffs, seemingly thousands per day, the traditional big-tech office job has become less and less appealing. There is nothing like working 14 hours a day, missing out on time with friends and family, only to get fired a months later over a Zoom call.
How do you create a stable freelance job from home?
I have been a freelancer for my entire twenty-plus year career, it is the foundation of my career. Even when I spent roughly fifteen years in agency advertising departments and global brand marketing departments, I always did freelance jobs on the side.
It was a true side-hustle that often broke the monotony of office work, where someone else dictates what, when, and where you work. This flexibility, combined with the feeling of achievement when selling then completing a project was amazing.
How-to get freelance jobs quickly in 10 steps:
Choose 3-4 freelance jobs you want to do

Make customized pitch for each of those jobs

Use the LinkedIn search to find the freelance job

Sort by Posts, and connect and pitch other users looking for help

Set up a Fiverr and Upwork account

Add your 3-4 freelance jobs into the project catalogs on these platforms

Send 10 proposals per day on Upwork

Apply to 10 freelance jobs on LinkedIn, Indeed, and Glassdoor every day

Build your basic website with contact information and work samples

Connect eCommerce for easy hiring and client payments
Within a few weeks you should start having projects rolling in. With the above system you will be contacting about 40-50 people per day, even at a 1% conversion rate (which is very low), you should start getting contacts and new projects within the first few weeks.
What is the best freelance job to do from home?
Have a look at my recent article 3 Best Freelance Jobs for Beginners in 2023 which explains three great freelance jobs that you can do with only a phone.
Although I recommend a computer, a tablet or phone is actually fine, and can get you started with the 10 step system above.
Remember: Your freelance career is an evolution, you don't need everything all at once. You can start in your living room, with your phone in hand while watching Netflix, I typically close most of my deals this way even after twenty years.
As your freelance career grows, you can start sectioning off an area of your house for a workstation, then build it out into a dedicated room. This took me years to do, and sometimes I'll travel and just grab an AirBNB and work from anywhere. It's the beauty of a freelance career from home.
What do I need to freelance from home?
You need a phone and a connection to the internet, in many cases you can start freelancing with little to no start up costs, and often with things you already have.
Dedicated computers can be expensive, and trust me, you don't need a high powered MacBook Pro with an M2 neural engine to build a successful at-home freelance career. When I started freelancing I had a Pentium 1 HP Notebook, all phones today are vastly more powerful than my first computer.
What freelance job should I start with?
No one likes the answer "it depends," so I always recommend starting as a Virtual Assistant. Remember that ALL freelance jobs have an element of virtual assistance, you're going to be helping collect information from your client, scheduling consultations, organizing emails whether you are a freelance writer, graphic designer, or web developer.
I have two virtual assistants, every person should have a virtual assistant to take care of the tasks that shouldn't be the business owner's responsibility, or worse, wasting the founder's time dealing with day to day tasks.
If you promote yourself as a problem solver and look for people having problems that you can solve on platforms like LinkedIn, Reddit, etc., you will find everyone has a problem they don't want to deal with. Approach them with a solution and you will make yourself invaluable as a freelance Virtual Assistant.
Should I freelance full time?
I believe you should, but because of the flexible nature of freelance and your personal situation and preferences, full time can have many definitions. It is as reasonable to work 10 hours per week as it is to work 100 hours per week.
The definition of full time is really up to you. I tend to consider my full time hours as about 40-60 depending on my energy levels, and when I'm on vacation, full time might only be 5 hours per week to keep things moving.
What is the most profitable at-home freelance job?
When calculating this, I like to think of freelance jobs that can be done with very little software and hardware. If you need a $10,000 computer for high end motion graphics and expensive software, the $100/hour price tag may not actually be as profitable as a writer making $50/hour while using Notes on their iPhone while sitting on the couch.
I believe the most profitable freelance jobs you can do from home are:
Copywriting $25-175/hour

Virtual Assistant $5-100/hour (yes, there are some virtual assistant making over $400,000/year)

Social Media Content Managers $25-75/hour
What is the best long term freelance job?
I believe the best freelance job write now is Copywriter. See what I did there?
It's 2023, and yes, there are AIs that write content, but you can make a great living as a copywriter. Copywriting is an amazing long term freelance job because jobs are plentiful, you really don't need a lot of skill to get started (everyone can type), and you are able to work from home, or anywhere really.
All businesses require copywriters, whether management needs you to build email templates, marketing professionals need you to write copy, or search engine optimizers need you to write blog posts.
As a copywriter, your skills are universally required, and you will find thousands of potential clients with ease.
Build your work from home skills as a freelance writer
Building your skills as a copywriter are quite easy as well, just start writing. By using tools like SurferSEO and Grammarly, it becomes a lot of work just to make a mistake!
If you are looking for full time long term employment as an at home freelancer and want to help companies in a variety of content roles, Copywriting is a skill you must have. If you can communicate well, you can start any time.
Build your copywriting portfolio simply by writing at home, if you have an idea for a slogan, or a blog post, write it and hit publish on your website, social media platform, anywhere people might read your writing.
The more you write, the better you get!
Freelance writing clients are everywhere, I believe every business and person needs help from a writer, as communicating is at the core of all freelance jobs. You are required to communicate with the businesses you are working with so even if you don't consider yourself a writer, you are practicing this skill with every email you send.
Companies are in desperate need to stand out from the crowd, and writing is one of the easiest ways to build search engine optimized content for organic traffic.
Work from home websites
Work from home websites like LinkedIn, Upwork, Fiverr, and Indeed are filled with companies looking for freelancers. The more layoffs there are, the more freelancers are brought in to help, either on a part time or full time basis.
Stability for work from home freelancers
Money is stable and easy to earn as a freelancer because you can mix together hourly rate, fixed or flat rate projects, and monthly retainers to achieve your goals. At an at home freelancer I brought in over $27,000/month in June 2022, my best month ever. It was a huge amount of work, but proof that work from home, works!
Getting started is easy as I mentioned earlier, just get started, there is no better time than now, start reaching out to the employer you want to work for, tell them your services and prices, and show them your work. Create your own projects in the beginning to build your portfolio.
Work from home client testimonials
Get testimonials from clients to prove that you are the freelancer to work with and have the skills to handle remote freelancing, and are trustworthy to work from home and manage your own time.
If you are looking to get started with work from home freelance, I offer a pitch template to get you started and freelance coaching to keep your skills sharp and teach you how to build your freelance business.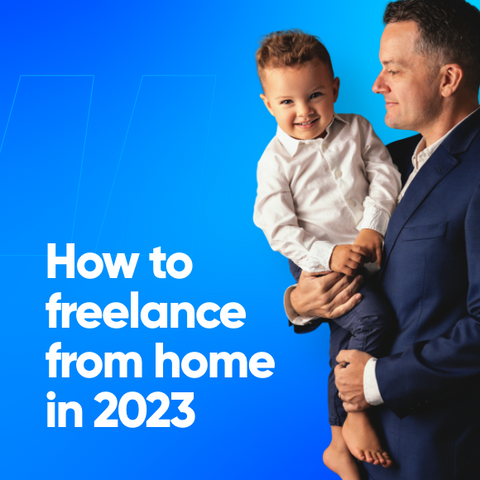 Home to freelance from home in 2022
Then, pick one of these:
---
Third, try these:
---