Building your website in 2023 has never been easier, but the most common question I receive is, "how much does a website cost in 2023?"
When I build a website, whether it has eCommerce functionality or not, I use Shopify. It is a low-cost website builder and allows clients with little to no knowledge to manage their own website easily.
Shopify has many built-in features, reducing the cost of building your website. Shopify includes an SSL Certificate which allows you to offer a secure and trustworthy website right from the launch with no added fees.
Shopify is also much more than just an eCommerce platform. Shopify gives you website hosting and a free SSL Certificate included in your hosting plan, which starts at only $29 per month. For example, I use the $29 per month plan on this website. It's outstanding for 5,000-10,000 impressions per day.
Calculating how much does a website cost in 2023 is simple using this blog post, websites I produce start at FREE and go up to about $25,000 for websites that support multi-million dollar businesses. It is easy to build a low-budget but highly effective website for $1,500-7,500.
Your website cost has to be easily justified by your business and can't have a run-away scope. The simplest way to get your initial website perfect is to look at the ranges below and see which website cost and features best align with your goals for your business website.
You can even register your domain name right through the Shopify platform, which simplifies connecting your domain name to your website and further reduces website costs.
Website maintenance and website development are also easier on Shopify for small business with many tools for search engine optimization (SEO) easily accessible with very basic knowledge.
What does a free website include?
How do I start my website for free?
Yes, I actually offer this service, and it is, of course, FREE!
There is a free 14-day trial available from Shopify, but if you are a do-it-yourselfer, you'll need more than 14 days. If you are looking for a free Shopify website that you can tweak and tune up on your own, I offer the free setup of an unlimited account, giving you as much time as you would like.
What's the catch? Nothing is free, right? Yes, your site will stay in development mode, so you will have to give users access via a Password, but the advantage is you get plenty of time to ramp up and tune until your heart is content.
Website cost doesn't have to be prohibitive. That's why I encourage my clients to start with a free website and work up from there. As your website designer and developer, I can jump in any time you get stuck to give you a boost ahead and ensure you get the website you want and one that works with your budget.
The free option is perfect for your small business if you have a lot of time on your hands. The only downside to the free website is that the cost becomes your time. I know as a fellow entrepreneur that time is always limited. But using the free website builders for your business website helps you get up and running with minimal cost. Your small business website likely costs you only $29/month on an ongoing basis if you like to DIY.
What is included in your FREE website:
Shopify account setup

Unlimited development website trial

You are added as a website staff member with complete control

Unlimited time to work on your website

Go live when you are ready
Want to get a free unlimited trial of Shopify?
Contact me with your name, store name, and email, and I'll have that set up for you within 24 hours.
What type of website can I expect for $1,500?
$1,500 in 2023 is not a lot for a site, but it's hard work to earn $1,500, and you can get a great starter website.
You don't have to have a high cost to build your website to have a decent website. As I always tell my clients, you should consider your website an evolving marketing tool that will never be completed. Trust me, I have worked on my website for twenty years, and there is still a ton I want to do!
Building a website for $1,500 is a fairly straightforward project, and you can expect a Home Page, About Page, Contact Page, up to 10 eCommerce products, and a Blog.
Website builders like Shopify reduce the cost of web hosting and maintenance of your website. You can now build a perfectly fine website for $1,500. In 2023 this is a fantastic price. There will always be opportunities to slowly upgrade your business website with ongoing website maintenance and development.
Websites with an average cost to build of $1,500 are based on free Shopify themes, so they can start off pretty basic but are entirely functional and can look quite good with some time spent on tuning up the web design!
Website maintenance and website development costs can also be low on your $1,500 website. As there are not many moving parts at the beginning of your business website, website builders can quickly jump in and out of your website project to help add functionality or even assist with management.
Website design is limited in the $1,500 package, but the free themes from Shopify are quite good considering their price. As you get further into your project you may want to use web design to tweak and tune up individual pages, sections, or revamp your whole website.
$1,500 is a great starting point for customers who want to get up and running fast, then continue adjusting their website as they have time and budget. Building a website doesn't have to be difficult, and this is a great starting point for your small business website.
What is included in your $1,500 website:
Home, About, Contact Pages

1-5 Products 

Free Theme

Cart, Checkout, Product, and Collection Pages

You supply product images

You supply content

1 Hour of one-on-one training
Get started with a website that can grow with you!
What type of website can I expect for $3,500?
Can I build a business website for $3,500?
Yes, of course, you can. Once you reach the $3,500 range, you are starting to get into basic customization of your Shopify website, which will give you an excellent small business website.
Websites with an average cost to build of $3,500 won't have much in terms of website design but can include your Logo, brand colors, fonts, and the standard Home, About, Contact, Product, and Blog pages.
In the $3,500 range, you get more flexibility in web design and website development to build out an extensive catalog of products and content to help with your search engine optimization SEO. This is a perfect package for your small business website as it has a reduced cost of building a website. It can also take advantage of digital marketing with app integrations for increased functionality.
With the Shopify website builder and a $3,500 budget, you can have a great business website without hiring a web designer to customize each page of your website. You can expect to pay minimal ongoing fees within the $3,500 budget. Website hosting and domain name registration are also very reasonable for your small business website. The website you are reading this on still uses the basic Shopify hosting plan of $29/month.
What is included in your $3,500 website:
Everything in the $1,500 Website plus:

Up to 25 Products

Premium Theme with 2 Custom Theme Adjustments

1 Custom Form

2 App Installations and Setup

2 Hours of One-On-One Training
Get started with a website that can grow with you!
What type of website can I expect for $7,500?
Will $5,000 be enough for my business website?
Yes! Remember the "always evolving" comment? You can always build your website up in small pieces. I make minor adjustments to my website weekly to fine-tune the experience for my customers and make my content as helpful as possible.
Your $7,500 website will include all of the standard Home, About, Contact, Products, and Blog pages but will also have some custom features built specifically for your business needs.
These $7,500 Shopify websites are built on Shopify Premium Themes and plugins to give you a lot of flexibility as to what you can do with your website, including Email Newsletters and even tying your brand into Amazon if your website is product based.
What is included in your $7,500 website:
All Basic and Intermediate Features Plus:

Up to 150 Products

Custom Product Descriptions

Custom Content Writing

3 Custom Landing Pages

3 Custom Forms

3 App Installations and Setup

Chat and E-mail Newsletter Setup

10 Hours of One-On-One Training
Get started with a website that can grow with you!
What type of website can I expect for $9,500?
Can I get a custom website for $9,500?
$9,500 is my average cost to build a website. This includes much more in-depth customization of your website and bespoke design, so your site is unique and aligns perfectly with your brand.
This level of a Shopify website includes all the standard pages but includes more custom website design and development to meet your business's specific needs. Within this average cost to build a website, you can expect custom forms, product pages, and in-depth service pages, and typically have about 50-60 total pages.
Have a look here for advanced website design and development services.
What is included in your $9,500 website:
Hosting Until Site is Online (Starting at $29/month afterward)

Sitemap

Website Copywriting

Website Wireframe

Search Engine Optimization

Google Analytics and Google Search Console Integration

Complete Brand Migration to Your New Site

Responsive Site Design for Desktop and Mobile

Responsive Site Development for Desktop and Mobile

eCommerce or non-eCommerce (can be activated anytime)

Complete Add to Cart to Checkout Functionality

eCommerce to Point of Sale Integration

Setup Assistance

Domain Name Connection

Up to 5 Hours of Training

Contact Page Form

Email Newsletter Signup

Up to 10 App Integrations
What is the maximum cost to build a website?
When I build a website for a client, they tend to max out at about $25,000. One site I have produced has 27,000 products and hit that $25,000+ range when it was all said and done.
This sounds high, but when I build a website, I factor in how much the client is likely to earn with the website's value. Typically the $25,000+ range is for customers looking to earn over $250,000/year through their site organically.
With a roughly ten times return on investment, this is a great deal, of course, but you need to factor in the cost of goods sold, website management (sites on this scale require dedicated people to run them), and numerous other factors.
How does a website increase the value of my business?
Your website is an asset to your business. If you want to sell the business in the future, it is an excellent idea to have a website that can grow organically or be supercharged with paid advertising.
An excellent website will help your business as it constantly generates business during business hours and at all times of the day and night.
When you have a well-functioning website, you often see notifications of new sales on Sunday mornings when you're out enjoying your day. This boosts your morale and makes you look forward to Monday, knowing that you haven't lost any momentum over the weekend.
Have there been changes to website cost in 2023?
Not really, my prices have stayed more or less the same, with a slight adjustment for new services, but overall website cost in 2023 has stayed relatively stable. I expect the cost of a website in 2023 to decrease slightly as tech layoffs have increased the numbers of freelancers out there competing for work.
This is excellent news for small businesses as you can now get more for less, which is excellent considering the heavy increase in inflation during 2022. Digital marketing has also reduced costs, mainly because of privacy rollouts from Apple and Google, which have increased the customer acquisition costs of paid advertising.
This isn't all bad news. I have never recommended paid ads until you have maxed out your Google Search ranking using search engine optimization SEO, which has become more challenging to perform but is wildly effective.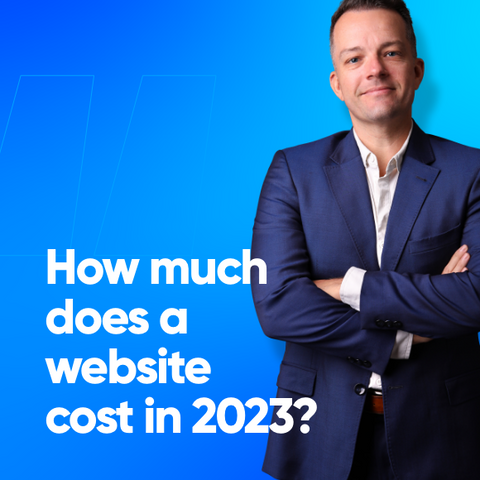 How much does a website cost in 2023?
Then, pick one of these:
---
Third, try these:
---