Who is a freelancer?
In order to understand how freelancing works, we need to understand who is a freelancer. A freelancer is a self-employed independent contractor hired by a company or a business on a temporary basis for a project or a job often with a date or time of the culmination of their contracts. Unlike full-time employees, freelancers are not affiliated with one company and can choose to work with multiple clients at once.
Effectively freelancers are their own bosses when it comes to time commitments, job expectations, and the kind of work that someone can expect them to do for them. This is something pre-determined in their contracts, any alterations to the same would require renegotiation where both the client and freelancer can come to an agreement.
This means that freelancers have the option to choose who they work for, for how long, and on what terms. Freelancers get to decide the businesses they affiliate themselves with, the work-life balance they want to have, and how much they want to earn. It is this flexibility that gives freelancing jobs their charm, with more and more new entrants to the freelance marketplace by the minute.
Who hires a freelancer and why?
We briefly discussed who is a freelancer but the next plausible question is, who hires freelancers and why? Let's answer the first part.
For a large portion, almost all businesses hire freelancers to a certain degree. If we isolate ourselves just to the work done on computers and freelance marketplaces, we still have a wide base of businesses that hire freelancers. All the way from solopreneurs running their businesses as independent contractors to large corporations, hire a freelancer for one or the other need, during the lifetime of their business.
They hire freelancers for simply one reason, convenience. The convenience of time, the convenience of cost, and the convenience of expertise. When companies hire for freelance jobs, they are looking for someone who will not need much support to get started, and would not have to undergo a standard hiring procedure while bringing in a certain degree of expertise without the hassle of training them. This works out for the freelancer, as they get flexibility while the companies get essential support without a long-term commitment.
The roles that a business may hire for can be spread across the board as well. Freelance jobs and freelancers come in all permutations and combinations. This means companies can get quick and easy access to great talent without any hassles of hiring a full-time employee. Open any freelance platform and you will find a freelance job in almost any niche. Design jobs, development jobs, writing jobs, and almost anything else under the sun.
Contrary to some of the beliefs out there, freelancers aren't cut-rate employees, doing a dollar's worth of work for a dime. Freelance work is a legitimate source of income, where you can make serious money, which in some cases can far surpass a year's worth of salary at a large corporation as a full-time employee. Freelancers minimize risk and that is what makes working with freelancers more suitable, especially in the early stages of a business.
What is expected from a freelancer?
As a self-employed individual, a freelancer can have a different set of expectations as compared to a full-time employee. When a business hires a freelancer, it's a business-to-business transaction. Where one business (the client) hires another business (a freelance business) to meet a business objective.
The terms of this relationship are the ones that two businesses with a common goal would share. A freelancer is expected to be the fixer and solve the problem that they were employed for. The best comparison to make is the one with a lawyer. It's to work when required, take charge, and fix the problem. Once the problem is fixed, the services are no longer required and the freelancer can be retained on a monthly retainer.
The client isn't concerned with what time you start working or clock out, as long as the task is completed timely and with the expected output, a freelancer's job is complete. In addition to this, since this is contract work, both parties agree to abide by a contract that defines the relationship. This details the deliverables, expected outout from the freelancer, and the remunerations for the same.
For a list of 3 best freelance jobs for beginners, click here or check out the easiest freelance career!
It's natural to seem that freelance projects are unregulated and run with little oversight, especially when freelancers enjoy the ability to be their own boss. While this may be true at the very base level of the industry, freelance platforms oversee the creation of such contracts and make sure all parties abide by their ends of the commitment. On the senior level, freelancers understand contractual agreements very well and know how to rightfully create, enter and comply with a contract. And, if need be, force the client to hold their end of the bargain.
How do freelancers get paid?
We have established that freelancers are contractors and how they get paid can be similar or highly dissimilar to in-house full-time employees.
For most freelance platforms, the platform oversees that the freelancers get paid the right amount for either the time or the work that have down. On Upwork, freelancers get paid on a project or milestone basis where the client releases a payment once a milestone is complete. You can also have hourly contracts, which bill the client at the end of every week. This is a norm that can be observed across freelancing websites in some iterations of the same concept. Platforms withhold some portion of the freelancer's earnings as a fee for their services towards facilitating this transaction. They also charge the client fees to list the job on their job board.
Other than this, if you find potential clients outside a freelance platform, you can propose amenable terms of payment. For deliverable-focused projects, there is an advance at the beginning of the project with the remainder due towards the end of it. For hourly contracts, it's usually at a bi-weekly or monthly interval i.e when the client pays the rest of their employees.
Freelancers and any self-employed person for that matter have different categories to file income taxes. Often there are different tax deductions for freelancers and most of the time, the tax isn't withheld from their payments. Freelancers are expected to set aside a certain portion of their payments to put toward income taxes.
How do you find freelance work?
So you want to become a freelancer and you are wondering where to find freelance work. The answer is pretty much anywhere. You can find work on freelance websites, within your network, LinkedIn, door to door freelance sales. The sources are endless. What matters is which of these sources appeal to you and you can truly follow through. Most online platforms have systems that allow you to find, reach out to, and onboard clients.
To learn more about how to find freelance work, read How to start with freelancing?
The burning question is, is freelancing for you?
So you are contemplating if you should start freelancing, be it to supplement your full-time income or simply seek a better work life balance. Well, I think freelancing is for everyone, be it to buy a couple of beers at happy hour or embrace being a full-time freelancer. The virtually unlimited income and the idea of being your own boss really make a strong case for it.
Freelancing has its benefits for sure, but it isn't without its challenges either. Like you won't have an employer to pay you a monthly check or any benefits like health insurance or comped meals. You will be responsible for all of those things yourself. Which can deter many people from the idea of freelancing.
The good thing is that freelance doesn't demand a full-time commitment. If done right, the upside far outweighs the downsides of freelance work. There is potential to make good money, that too on your own terms. There are a whole lot of resources here on Creatibly and on the web to ensure your freelance success. Like most things worth having, freelancing requires serious work and commitment, but once mastered, you unlock a lifestyle of financial and mental freedom. That's a trade worth making.
To learn how to make 6 figures in your first year as a freelancer, read How to make 6-figures in your first year freelancing?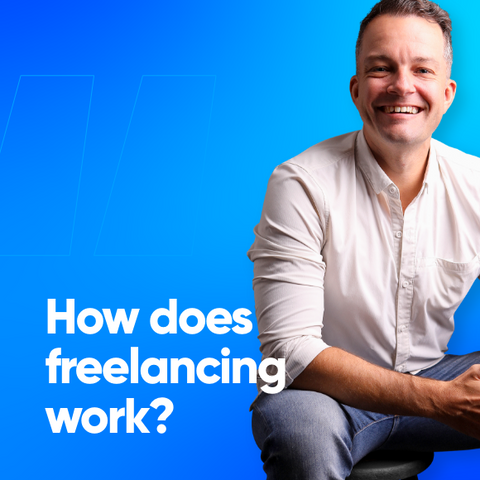 How does freelancing work?
Then, pick one of these:
---
Third, try these:
---