Where to start finding a brand designer for hire?
Type "brand designers" or "brand identity designers" into Google and you will get millions of results, from freelancers, agencies, and platforms hosting freelance graphic designers such as Upwork, Fiverr, 99Designs, and the list goes on.
But how do you hire brand designers who know what they're doing, and have an understanding of the branding process needed to produce the brand assets and marketing collateral that you require?
Start with a design brief
Your brand design brief is the greatest asset to a brand designer when trying to build a brand identity from the ground up. The design brief for brand design would be very different from the general creative brief that's made for campaigns or pieces of collateral.
Think of this brief as a document that initiates the creative process without stifling it in any of its stages. The final output needs to be unique but still industry relevant. This process is highly iterative and the possibilities are virtually endless. So don't have any specific asks from your branding designer apart from the task to create a brand identity that represents your brand.
Take your time
First and foremost, you need to take your time with brand design. Yes, you'd ideally want to launch next week, but brand identity design is not something you can get on-demand, unlike some other graphic collateral. Your brand design will take time, your brand identity designer will take time, and the application of it to your collateral will take time.
So when making a brief for your brand design, take your time with it. Make sure that you take good time considering what you want, what you want your brand to be, who is the target audience and other aspects that you think are necessary for the designer to know. Your business goals will need to be considered throughout this process, so make sure you are at peace with what you seek with the design brief.
Get clarity on your business
This might seem like the most logical step but getting clarity on your business isn't simply about knowing what you sell and how all of it works. Although an important part, its just the surface-level information at that point.
Any freelance brand designer that you choose to work with would ideally give you some homework at the beginning of a project and as you go through these stages anyway. Being prepared with answers will save a lot of time especially when you have a timeline to stick to.
Begin with how you want your business to be seen and perceived. What do you want to be known for and the feelings that your brand should invoke? What makes your brand unique and who are some of its direct and indirect competitors? Be as clear and concise with these answers, the more clarity you have about your business, the easier it will be for a brand designer to visualize it for you. 
Try using a project mapping platform like Lucid or Miro to visualize how different aspects of your business connect to each other. 
Know your audience
As much as we all like to think that we are in control of our brand strategy and brand design, it's more often a process of fitting into the psychology of the consumer while still standing out at the same time to be really successful with brand design. Knowing who your audience is will be one of the major decisions you will take in this process so be as focused as possible. There's a saying that if you're selling to everyone, you're selling to no one. That being said, be as detailed in describing your ideal audience. If possible create user personas. Narrow down the age, gender, demographic, preferences, spending capacity, etc. These might seem unnecessary but will be highly relevant when approaching smaller decisions within the process.
Timeline
The most underrated consideration when it comes to brand design work is timing. Brand design isn't a snap-of-finger kind of task. Brand designers work on fairly long timelines which can range from 20 days to 3 months and more.
Schedule your asks and time for the project accordingly. A freelance brand designer is less of a contractor and more of a temporary partner in your business and you don't want them rushing things when you are creating something that defines your brand for years to come.
Gather inspiration
Gathering inspiration from your brand identity design might seem unnecessary since you are hiring a brand designer for it. But this can be so helpful to your designer in getting close to your vision. Don't make it too complex, simply choose what you like and what makes sense for a brand like yours.
In addition to this, a few references from what your competitors are doing will help your designer better understand what industry you are in, what are the expected design solutions and how they can be tweaked to make your brand stand out. This applies to everything from logo design to colors you like, illustrations, and images.
Assemble the Creative Design Brief
After running through the previous steps, you should be able to populate your creative brief with the following:
Your name and contact information

Your design objectives

Target Audience

Competitive Analysis

Sources of Inspiration
With the above steps complete, you can confidently reach out to a brand identity designer and provide them with your design brief to make the process smooth and hassle-free for both parties. There's a lot that goes into creative projects of this scale, so make sure you factor that in and be prepared to add to or remove requirements wherever necessary.
Where do I find brand designers?
The obvious answer, is you have already found your brand designer and creative director, me, Scott Luscombe, at your service! I offer a huge range of graphic design services and brand design is one of my top-ranking services. I am ranked in the top 1% of worldwide graphic designers. As a freelance graphic designer with over twenty years of service, I can tackle your brand design project with ease and deliver a bespoke brand design that truly communicates who you are, and what you do and also appeals to your target audience. Brand design with Creatibly means that you get text and visual elements that communicate with the viewer and each other.
View Creatibly's Brand Design Portfolio and Brand Identity Design Service
But, if you must continue your search for other designers, there are graphic designers' portfolio sites such as Dribbble and Behance. Which are great for visually searching graphic designers by their design style. If a design stops your scroll, it's a safe bet. You like that designer so reach out!
If you are hiring on a tight budget, it's unlikely that the designer will have a quality brand design portfolio at the lower end of the price range. They should at least have one completed brand identity project for a client or their own design studio.
Visual social platforms such as Pinterest or Instagram are also great ways to find freelance brand designers. Your brand designer will be posting their design services there.
Software
Top freelance designers use Adobe creative cloud, as this is the gold standard for design, you may also be familiar with the name Adobe Photoshop, Adobe Illustrator, Adobe Indesign, etc., your perfect logo designer should be well-versed in this software and offer design packages that individual designers using software such as Canva won't be able to provide. The brand design would also require specific video and animation software based on your requirements. These are Adobe Premier Pro and Adobe After Effects.
This software is not only limited to brand design but will also be key in designing any marketing materials that you may need in the future. Ideally, you should work with one designer or design team for your brand design and marketing materials.
Past work
You have searched brand designer profiles, and have found an individual designer based in the region that aligns with your work schedule, now it's time to review past projects and testimonials from previous clients. It will be rare if you find a single designer who checks all of the boxes on what you need for your design.
However, if you find a freelance designer with a proven track record in logo design, illustration, visual identity, brand strategy, and marketing strategy; you are in good hands.
Some graphic designers only specialize, they may only do logo design, and these designers are great but may be early in their career and not be able to help with other graphic design you require. You need a designer who can look at the bigger picture as an art director to effectively design design collateral from a more holistic overview.
Concepts
It is important when hiring a graphic designer for your graphic design that they have great communication skills and understand if you want multiple designs included in your project. It is important to give your graphic designer or creative team this information in your brief.
A brand identity requires multiple concepts, especially in the log design phase so ensure the designer includes concepts within their brand design offering.
Revisions
Revisions are different than concepts, a revision is a small tweak to the design, such as adjusting the color or artwork positioning. The number of revisions required may be different for different projects.
Revisions are typically communicated in what are called "rounds." These rounds of revisions often include an hour or so of work per concept. Some design projects have 3-5 revisions included. Hire a brand designer who includes at least 1 round of revisions, but know that you will need to be very specific in your feedback when viewing your brand design collateral. The revision rounds would consist of changes and reconsideration for the entire identity at once rather than going back and forth on singular elements.
What files to expect?
Depending on your requirements the quantity and type of files can change. As a basic set, you should expect logo design files in all usable formats for print and web. A brand guideline booklet in PDF format and any other key element(s) that you may have requested in a photo or video format.
Attitude
Brand design requires both the client and the brand designer to have a positive attitude. If one, or both sides become frustrated, you won't receive the design you want, and you'll often have to find a new designer.
Remember that as the client, you hire freelance brand designers because they can do what you can't. Your job as the client is to run a successful business, your professional graphic designer is there to help you reach your goals. It is very much a team effort.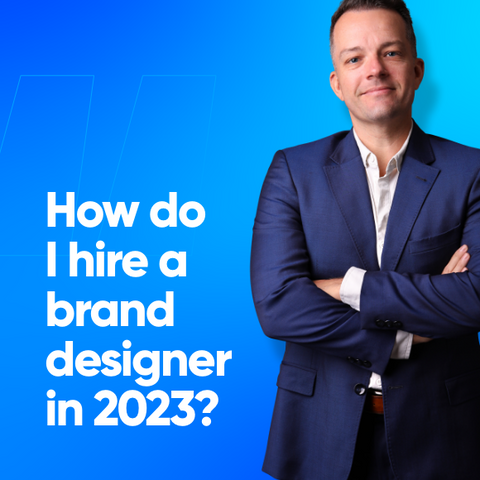 How do I hire a brand designer in 2023?
Then, pick one of these:
---
Third, try these:
---