Twenty plus years as a freelance Graphic Designer has taught me that there are a relatively few pieces of software and apps that you actually need.
Here are the tools I use every day to keep my graphic design business up and running and producing profit.
In terms of Graphic Design software there are a few categories that you need to consider:
Design Software

Project Management Software

Organization Software

Business Development Software

Personal Branding Software
DISCLAIMER: This article includes only software that I use on a daily basis. I recommend these pieces of software because I have built my freelance career as a Graphic Designer using them, and I truly believe you can as well.
Graphic Design Software
My pick: Adobe Creative Suite
Graphic Design tools like Adobe Creative cloud allows users to create all of the graphic design projects they will require for a successful career. I believe Adobe makes the best graphic design tools available because the tools allow you to work in both digital and print mediums and interchange the pieces you build within each of the Adobe products easily.
There are other tools which have become popular, like Canva, Figma, Invision and Sketch, but I believe these pieces of software are just low quality copies of Adobe Creative Suite software and don't have all of the features you will need for well rounded graphic design. All four of the above mentioned pieces of software can easily be replaced by the features in Adobe XD alone.
Graphic Design Tools that grow with you
As you grow as a Graphic Designer you will work with both end clients which may not have this software, but all printing companies you will work with and advertising agencies will be using the Adobe Creative Suite software. Adobe features amazing cross platform support allowing you to jump between operating system, using your phone, tablet, and desktop devices in real time for a truly cross platform experience. No more importing and exporting into and out of amateur graphic design tools such as Figma or Canva.
You may as well start with the correct software and grow your career from there, instead of starting on Canva and trying to make the leap to professional tools. Canva is really for the do it yourself clients who don't have a marketing budget, these aren't your clients, so it is best not to bother with these amateur tools when you are trying to grow your career.
Creative Cloud graphic design software
Creative cloud gives you access to sharing files from your tablet to your workstation easily, access to fonts, storage, and app updates all in one place. These desktop and mobile apps will allow you to manage projects from social media posts, user interface designs, print ads, and catalogs all in one place.
Social Media posts are easily created in Adobe XD and the full Creative Cloud subscription often costs less than multiple tool subscriptions like Canva and Figma when combined. One simple subscription to Adobe allows you to create user friendly mobile apps, web design, and vector graphics.
Adobe apps for Graphic Designers include Adobe Photoshop, Adobe Illustrator, Adobe InDesign, and Adobe XD primarily. These are the graphic design apps and tools that you will use daily for the production design work you will complete, you don't NEED more than these tools.
You can easily make a six-figure career with these four core graphic design tools.
Graphic Design tools for Motion Design
The other software for graphic designers you can use within Adobe is Adobe Animate, Adobe Premiere, and Adobe After Effects, but these are graphic design tools you will use as you get more and more specialized.
These graphic design tools require animation and video editing experience but I would highly recommend experimenting with these graphic design apps as it will increase your value in graphic design and allow you to take on numerous other design projects and keep you fresh.
FAQ: What graphic design software do I use for Logo Design?
Adobe Illustrator is used primarily for vector graphics. I use Illustrator for Logo and Brand Designs, as well as UI/UX icon design and component illustration. You can quickly drag and drop your artwork right into InDesign for print projects, and into Adobe XD for web. Graphic designers have been using the Adobe Illustrator graphic design software for longer than I have been in the industry and Adobe Illustrator is one of the core graphic design tools you must know.
FAQ: What graphic design software do I use for web design and social media?
Adobe Photoshop is another of the core graphic design tools and is mainly used for image editing, but with multiple canvas options you can easily design multiple ads using the same file. I use Adobe Photoshop for everything from web design, to print design, to Google display ad designs. It is perfectly well rounded software, and if you do decide on Figma, you will need Adobe Photoshop any way as Figma has virtually none of the capabilities of Photoshop.
Cloud Storage
Adobe graphic design tools also include cloud storage as well as every graphic design tool you will need to complete photo editing projects to complete website designs, whether simple user interface designs or social media.
By having cloud storage you can easily share your files, but also work on teams that you will become part of and will work on files simultaneously with others. Creative cloud is amazing for it's drag and drop capabilities and digital asset management which is critical to your success as a professional graphic designer. Social media posts are easy to store and share with clients and is a graphic design tool you will quickly realize you can't live without.
Project Management Software
My pick: Monday Project Management
Designers need software beyond just a design tool, managing your projects is also an essential design tool. By keeping all of your projects on track and keeping clients up to date, project management tools like Monday are perfect.
Time tracking is an essential feature when making sure you're charging enough for your Graphic Design projects, but to also show your clients what you are working on and when. It's wildly important for successful projects to keep your projects organized and ensuring a job done well.
Organization Software
My pick: Lucid Software
Your Graphic Design business will slowly evolve into something massive as you grow your skills and service offering. One day you will be working on a vector design for a print client, the next day you will be organizing design assets, the next day you will be a photo editor.
The way I am able to understand the big picture of my Graphic Design business is through a mapping tool like Lucid Software. It's very inexpensive and gives me a visual representation of my operations and also allows you to create a visual map of each project for your clients.
Lucid Software is an online app that allows you to create an overview of every project and list your services and business structure visually. I love the software, and once you embrace it as a place you can store your second brain (the place you build to place ideas to be organized late) the better off your design career will be.
Business Development Software
My pick: Fiverr
There are a lot of great business development apps out there like LinkedIn and Upwork, but they often have a steep learning curve. Fiverr is excellent as the app allows you to simply post projects which are ready for purchase without the steep learning curve of having to be a sales person.
Freelancers often forget that all projects start with a sale, but Fiverr takes care of that and allows you to commoditize your services and simply allow clients to shop for your services. Fiverr is free to use and features a wide range of freelance services to provide and a transparent way to see what is selling well and where you will fit without the learning curve of trial and error required to succeed on LinkedIn or Upwork.
Personal Branding Software
My picks: Shopify
Every freelancer needs a personal brand, this includes everything from building your content on social media, to your own website. Like this website, I highly recommend you build a Shopify website.
Need to know what makes a perfect website? Read this article I wrote about how to build the perfect website here.
Use Shopify for your graphic design portfolio site so you can accept orders
I have written a lot on Shopify websites, I have had this website for 6 years, overall I have had a personal brand website for over 20 years. Although building organic traffic is difficult, it is a worthwhile process and having a Shopify site allows you to easily send clients to your Home on the web, view your portfolio, and buy your services directly.
The Shopify platform starts at a very low $29 per month and allows you to get your work online and display your pricing in a transparent way that your clients will appreciate. There is nothing worse for clients when they need to go back and forth multiple times to find answers on pricing.
Make sure you show your graphic design services pricing
Many Graphic Designers worry that posting their pricing will exclude them, but you will be surprised at how much easier it is on your business to have a website on the Shopify platform. Clients get to your site and can buy right away.
You can also get a 14 day trail which is the initial free plan which gets you online and gives you more than enough time to build your initial online presence and start building your persona brand. Remember that your website will never be complete.
I have been working on my website for twenty years and I still have a list of hundreds of pieces I want to add. I truly think that this website will continue on with my sons well after I have retired from Graphic Design, and leaving my family this well established tool will help them immensely.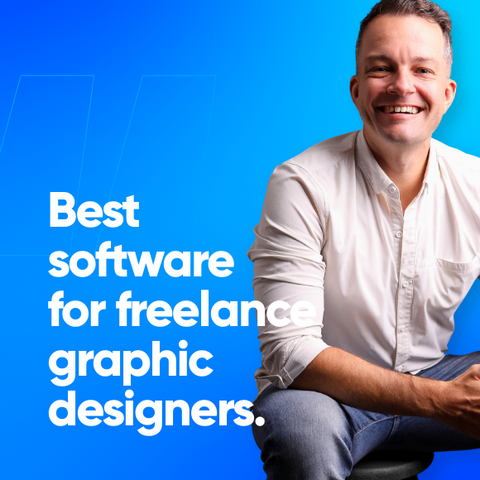 What's the best software for freelance graphic designers
Then, pick one of these:
---
Third, try these:
---