The Dynamic Power of Storytelling: Igniting Engagement Through Narratives
Storytelling is the heartbeat of human communication, a dynamic force that has transcended time and culture to shape the very essence of our existence. From the flickering flames of ancient campfires to the digital landscapes of today's screens, stories have been the vehicles through which we convey knowledge, emotions, and experiences. In this exploration, we'll delve into the captivating realm of storytelling, understanding its elemental structure, its dynamic role in engagement, and the art of crafting narratives that resonate with hearts and minds.
The Ageless Art of Storytelling
Storytelling isn't just an art form; it's an integral part of who we are. Throughout history, human cultures have passed down traditions, values, and wisdom through storytelling. From the fables of Aesop to the epic sagas of the ancient Greeks, from the folklore of indigenous tribes to the classics of world literature, stories have been the threads that weave the fabric of our shared human experience.
As we've journeyed through time, the way we tell stories has evolved, but the core essence remains unchanged. In an era of digital media and instant communication, storytelling is the timeless element that binds generations and transcends the boundaries of time and space.
The Dynamic Role of Storytelling in Engagement
Engagement is the heartbeat of communication. Whether you're a writer, marketer, educator, or speaker, the ability to captivate and involve your audience is the key to success. Storytelling is the bridge that connects you with your audience, transforming passive consumers into active participants.
Here's why storytelling plays a dynamic role in engagement:
Emotional Connection: Stories have the power to evoke emotions. When your audience feels connected to a story's characters, situations, or themes, they become emotionally invested in your message.

Memory Retention: Research has shown that we remember stories far better than facts and figures. A well-told story is more likely to be retained and recalled.

Engaging the Senses: Stories engage the mind and the senses. Through vivid descriptions and compelling narratives, storytelling brings the sensory experience to life.

Relatability: When you share a story, you invite your audience into a world they can relate to. They see themselves in the characters and situations, making the message personal and relevant.

Conflict and Resolution: Every good story is built on conflict and resolution. This tension keeps the audience engaged and eager to discover how the conflict will be resolved.

Empathy and Understanding: Stories allow us to step into the shoes of others, fostering empathy and understanding. It's an effective way to communicate diverse perspectives and experiences.

Inspiration and Motivation: Stories have the power to inspire action. A compelling narrative can motivate your audience to take steps, make changes, or pursue their own dreams.
The Elemental Structure of Storytelling
While storytelling can take countless forms, from oral traditions to epic novels to bite-sized social media posts, it often follows a fundamental structure that resonates with the human psyche. This structure, commonly known as the narrative arc, consists of key elements that create a dynamic and engaging story:
Introduction: The beginning sets the stage by introducing the characters, the setting, and the central conflict or challenge. It's the moment when the audience is drawn into the story.

Rising Action: This is the phase where tension builds. Characters face obstacles, challenges arise, and the conflict deepens. The audience becomes increasingly invested in the story.

Climax: The climax is the story's turning point, greatest tension and uncertainty. It's the make-or-break point where the central conflict is addressed.

Falling Action: The story begins to wind down after the climax. Loose ends are tied up, and the conflict resolution becomes clear.

Conclusion: The conclusion provides closure for the audience. It offers insight into the characters' fates and the story's lasting impact.
The narrative arc is a powerful framework that guides the audience through a journey of discovery and emotion. It's the domain of traditional storytelling and the backbone of effective communication in various fields.
Dynamic Applications of Storytelling
Storytelling is not confined to literature and the arts. It's a dynamic tool with widespread applications across various fields:
Marketing and Advertising: Brands use storytelling to connect emotionally with customers, making their products or services more relatable.

Education: Educators employ storytelling to make complex subjects more accessible and memorable for students.

Leadership and Communication: Leaders use storytelling to inspire and engage their teams, conveying values, vision, and purpose.

Journalism: Journalists employ storytelling to make news and events more relatable to their audiences.

Content Creation: Content creators, from bloggers to social media influencers, use storytelling to engage followers.

Advocacy and Social Change: Advocates tell stories to raise awareness and effect change, whether in social justice, environmental issues, or healthcare.

Entertainment: Storytelling is the foundation of the entertainment industry, from movies and TV shows to video games and live theater.
The Digital Age and Storytelling
In the digital age, storytelling has taken on new dimensions. With the advent of the internet and social media, the tools and platforms for storytelling have expanded exponentially. The ability to share stories and engage with a global audience is at our fingertips.
Here's how the digital age has reinvigorated storytelling:
Multimedia Storytelling: Digital platforms allow for integrating multimedia elements, including images, videos, audio, and interactive features, creating a richer and more immersive storytelling experience.

User-Generated Content: Social media empowers individuals to become storytellers, sharing their experiences, thoughts, and narratives with a global audience.

Real-Time Storytelling: Live streaming and real-time updates on social media enable immediate storytelling, bringing audiences closer to events as they unfold.

Global Reach: The internet has dissolved geographical boundaries, making it possible for stories to transcend borders and reach diverse audiences.

Crowdsourcing Stories: Online platforms provide opportunities for collaborative storytelling, where multiple contributors come together to create a narrative.
Dynamic Examples of Digital Storytelling
The digital age has witnessed the rise of compelling and dynamic forms of storytelling:
Podcasts: Podcasts have become a popular medium for storytelling, covering various topics and genres.

Interactive Websites: Some websites offer interactive stories where users make choices that impact the narrative's outcome.

Social Media Stories: Platforms like Instagram and Snapchat enable users to share short, engaging stories in real-time.

Digital Story Maps: Geographic information systems (GIS) allow for creating interactive story maps that combine maps with multimedia content.

Virtual Reality (VR) and Augmented Reality (AR): VR and AR technologies offer immersive storytelling experiences, allowing users to enter the story's world.

Transmedia Storytelling: Transmedia storytelling involves telling a story across multiple platforms and media to create a more comprehensive narrative.
The Impact of Dynamic Storytelling
Dynamic storytelling is a force that shapes opinions, influences behavior, and connects people across the globe. Its impact is profound, whether it's in the realm of marketing, education, entertainment, or social change:
Branding and Marketing: Companies that tell compelling stories about their products or missions can build brand loyalty and connect with customers on a deeper level.

Learning and Education: Educational institutions employing storytelling methods find students more engaged and retain information better.

Social Change: Advocacy campaigns that share stories of individuals affected by social issues are more likely to garner support and drive change.

Entertainment: Movies, television, and books entertain and captivate audiences, leaving a lasting impact on culture and society.

Inspiration: Stories of personal triumph and perseverance inspire individuals to overcome challenges and pursue their dreams.
The Art of Crafting Engaging Narratives
To harness the dynamic power of storytelling, it's essential to understand the art of crafting engaging narratives. Here are some key principles:
Know Your Audience: Tailor your story to your audience's interests, needs, and preferences.

Create Relatable Characters: Develop characters your audience can relate to and care about.

Weave Emotion and Conflict: Emotion and conflict are the core of engaging storytelling. Make your audience feel and care deeply about the outcome.

Show, Don't Tell: Use descriptive language and vivid scenes to immerse your audience in the story.

Use the Element of Surprise: Surprise and unpredictability keep your audience engaged and eager to learn what happens next.

Craft a Memorable Resolution: A powerful ending leaves a lasting impact. It's the last thing your audience will remember.

Practice and Refine: The art of storytelling improves with practice. Write, rewrite, and seek feedback to refine your narrative skills.
The Dynamic Heartbeat of Storytelling
Storytelling is the dynamic heartbeat that fuels engagement, connects individuals, and shapes our understanding of the world. It has become an even more potent force in the digital age, offering new ways to share and experience narratives.
As storytellers, we are the keepers of this timeless tradition, whether by profession or passion. We hold the power to craft narratives that inspire, inform, and ignite the flames of curiosity and empathy in the hearts and minds of our audiences. Storytelling is the ultimate bridge, connecting us across time and space, inviting us to explore new worlds, and reminding us of our shared human experience. So, let's continue embracing the art of storytelling and celebrating its dynamic influence on our lives and world.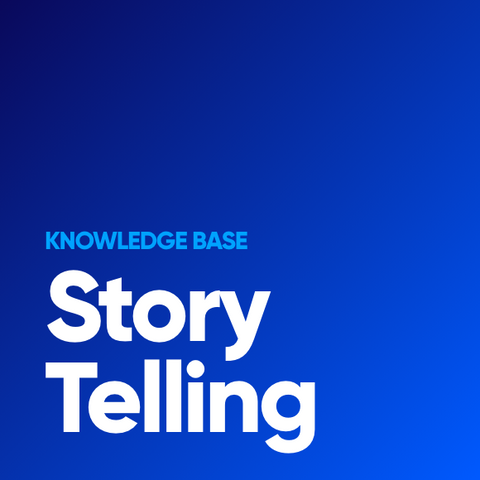 Storytelling