Remarketing Revolution: Reigniting the Spark with Past Audiences
In the dynamic realm of digital marketing, where attention spans are fleeting, a dynamic strategy is igniting success for businesses across the globe. It's called remarketing, a powerhouse approach that leverages the potential of past visitors and customers.
Remarketing is not just a tactic; it's a dynamic journey of re-engagement, where brands and businesses reconnect with their audience, offering a second chance to make a lasting impression. In this high-octane exploration, we'll dive deep into the captivating universe of remarketing, decode its significance, unveil the strategies behind it, and celebrate its pivotal role in the ever-evolving landscape of digital marketing.
Unpacking the Essence of Remarketing
At its core, remarketing is a dynamic digital marketing strategy that targets individuals who have previously engaged with your website, app, or brand in some way. This engagement might include visiting your website, browsing products, or purchasing. Remarketing involves serving these past visitors with relevant ads and content to re-engage them and encourage further action.
The essence of remarketing is rooted in the dynamic notion that not every potential customer converts on their first visit. Remarketing dynamically gives you a second chance to make a lasting impression, nurture leads, and drive conversions. It's the art of keeping your brand in front of past visitors, making it more likely for them to take action, whether completing a purchase, signing up, or any other desired engagement.
Decoding the Significance
The significance of remarketing in the dynamic realm of digital marketing is profound:
Re-Engagement: Remarketing dynamically revives past interactions, reminding potential customers about your brand and offerings.

Conversion Boost: This dynamic strategy often results in higher conversion rates as it targets audiences already familiar with your brand.

Customized Messaging: Remarketing allows for dynamic, customized messaging, addressing specific needs and interests based on past behaviors.

Cost Efficiency: Remarketing can be more cost-effective, focusing on a dynamic, engaged audience with a higher likelihood of conversion.

Data-Driven Insights: Remarketing campaigns provide dynamic data that can be used to refine marketing strategies, making them more efficient.
Strategies for Effective Remarketing
To make the most of the dynamic power of remarketing, consider these high-impact strategies:
Segmentation: Dynamically segment your audience based on their past behavior. This allows for more targeted and customized messaging.

Content Personalization: Craft dynamic ad content tailored to each audience segment's specific interests and behaviors.

Frequency Capping: Set dynamic limits on how often your ads are shown to avoid overwhelming or annoying potential customers.

A/B Testing: Continuously perform dynamic A/B testing to optimize ad copy, creative, and offers.

Dynamic Landing Pages: Ensure that the landing pages you direct visitors to are relevant, optimized, and dynamic in aligning with the ad's content.
Celebrating the Impact of Remarketing
The impact of remarketing in the dynamic world of digital marketing is nothing short of transformational:
Higher Conversions: Remarketing dynamically increases conversion rates by re-engaging potential customers already familiar with your brand.

Cost Efficiency: It's a cost-effective strategy as it targets an audience with a dynamic, higher likelihood of conversion, reducing ad spend wastage.

Brand Reinforcement: Remarketing helps reinforce your brand and messaging, creating a dynamic, long-lasting impression.

Customization: It allows for dynamic, customized messaging tailored to past visitors' specific interests and needs.

Data-Driven Refinement: Remarketing campaigns provide dynamic data insights that can be used to refine marketing strategies and boost overall ROI.
Remarketing Across Diverse Industries
Remarketing is a dynamic strategy applicable to a wide array of industries:
E-commerce: Online retailers use remarketing to dynamically re-engage past visitors who have shown interest in products but haven't completed a purchase.

Travel and Hospitality: Travel companies utilize remarketing to target past visitors who have browsed destinations or accommodation options but haven't booked.

Lead Generation: B2B companies employ remarketing to engage potential clients who have previously visited their website but didn't inquire or sign up.

Software and Technology: Tech companies use dynamic remarketing to encourage trial users to convert into paid customers.

Healthcare: Healthcare providers use remarketing to re-engage patients who have shown interest in services or procedures but haven't scheduled an appointment.
The Future of Remarketing
As the dynamic landscape of digital marketing continues to evolve, the future of remarketing is filled with exciting possibilities:
AI-Powered Personalization: Remarketing campaigns will benefit from dynamic personalization driven by AI, serving each visitor's most relevant content and offers.

Cross-Device Remarketing: Dynamic strategies will target users across devices dynamically, ensuring consistent messaging and engagement.

Dynamic Ad Formats: Future remarketing campaigns may incorporate more dynamic and interactive ad formats to engage users.
The Dynamic Reconnection
In the fast-paced and ever-evolving world of digital marketing, remarketing is the dynamic reconnection that keeps your brand in the minds of potential customers. It offers a second chance to make a lasting impression, nurture leads, and drive conversions.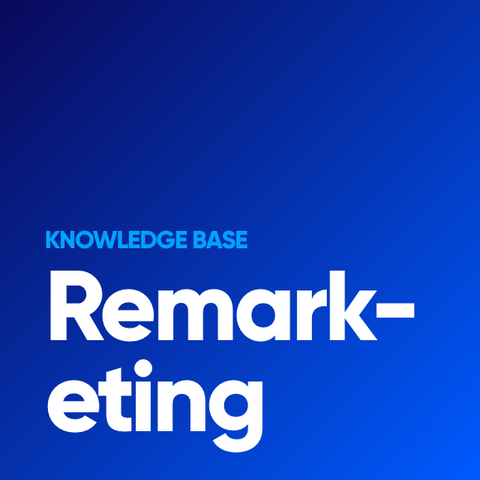 Remarketing Revolution