Mood Board: The Visual Source of Inspiration
These carefully curated visual collages are more than a simple collection of images; they are a powerful source of creative inspiration that fuels the imaginations of designers, artists, and creatives across various fields. This extensive exploration will delve into the world of mood boards, uncover their significance, explore their applications, and understand their role in creative inspiration.
Revealing the Essence of Mood Boards
At its core, a mood board is a carefully curated arrangement of images, text, colors, and other visual elements that capture and communicate a creative project's essence, tone, and direction. The essence of mood boards lies in their ability to serve as a tangible source of inspiration, offering a visual guide to the intangible world of ideas and emotions.
Why are Mood Boards so important?
The significance of mood boards is rooted in their capacity to bridge the gap between abstract concepts and concrete visuals. They provide a foundation for creative projects, enhancing collaboration and ensuring a shared vision among team members.
Decoding the Significance
The significance of mood boards in the realm of creativity cannot be overstated:
Visual Conceptualization: Mood boards offer a way to visually conceptualize abstract ideas, making them more tangible and understandable.

Creative Catalyst: They catalyze creative brainstorming and idea generation, helping designers and artists explore diverse possibilities.

Collaboration Tool: Mood boards facilitate collaboration among creative teams by providing a shared visual reference that aligns everyone's understanding.

Client Communication: When working with clients, mood boards help convey ideas, themes, and styles effectively, ensuring client expectations are met.

Design Consistency: In design projects, mood boards establish a visual language and style that guides consistency throughout the project.
Applications of Mood Boards
Mood boards find applications across a wide spectrum of creative fields, including:
Graphic Design: Graphic designers use mood boards to explore color palettes, typography, and design elements for various projects, such as branding and web design.

Interior Design: Interior designers create mood boards to convey design concepts, color schemes, and furniture selections to clients.

Fashion Design: Fashion designers use mood boards to convey their collections' themes, fabric choices, and overall aesthetics.

Film and Media: In the film industry, mood boards guide the visual aspects of a project, from costume design to set decoration.

Marketing and Advertising: Marketers and advertisers use mood boards to develop creative campaigns, ensuring a unified visual message.
Creating Effective Mood Boards
To create effective mood boards, consider these strategies:
Clearly Define the Objective: Understand the purpose of the mood board and what you want to convey, whether it's a design concept, a thematic approach, or a visual direction.

Curate Thoughtfully: Select images, colors, and text that resonate with the project's mood and theme, ensuring they evoke the intended emotions.

Organization and Layout: Organize the elements on the mood board in a clear and logical layout. Consider the balance, hierarchy, and flow of visual elements.

Digital or Physical: Mood boards can be created digitally using software like Adobe InDesign or physically using magazines and printed materials. Choose the format that best suits your project.

Review and Revise: Always refine your mood board to ensure it accurately represents the project's concept and message.
The Impact of Mood Boards
The impact of mood boards in the realm of creativity is profound:
Visual Conceptualization: Mood boards transform abstract concepts into tangible visual representations, making ideas more accessible.

Inspiration Catalyst: They serve as catalysts for inspiration and creativity, sparking new ideas and approaches to a project.

Collaborative Power: Mood boards facilitate collaboration and ensure that creative teams share a common vision for a project.

Effective Communication: They enhance communication with clients and stakeholders, helping everyone visualize the project's direction.

Design Consistency: Mood boards establish a visual language and design consistency that guides a project from inception to completion.
Mood Boards Across Diverse Industries
Mood boards have found applications across a multitude of industries:
Architectural: Architects use mood boards to convey design concepts, materials, and aesthetic directions to clients and teams.

Education: Educators employ mood boards as teaching aids to help students understand and create visual concepts.

Event Planning: Event planners use mood boards to represent event themes, decorations, and ambiance visually.

Culinary: Chefs and restaurateurs use mood boards to convey culinary concepts, menu designs, and aesthetics.

Health and Wellness: Mood boards guide the design of wellness spaces, conveying a calming or invigorating atmosphere.
The Future of Mood Boards
As the field of creativity continues to evolve, the future of mood boards holds exciting possibilities:
Interactive Mood Boards: Digital tools will likely enable the creation of interactive mood boards, allowing users to explore the elements and engage with the visual concept.

AI-Powered Mood Boards: Artificial intelligence may assist in generating mood boards based on project objectives quickly curating relevant visuals.

Augmented Reality Integration: Mood boards might be experienced in augmented reality, providing a more immersive and interactive design exploration.
The Visual Alchemy of Creativity
In the realm of creative inspiration, mood boards are more than a collage of visuals; they are the alchemists of the creative process, turning abstract ideas into tangible concepts. They spark inspiration, foster collaboration, and enhance communication, ensuring that the creative journey begins with a shared vision. Mood boards aren't just about pictures; they are about the visual alchemy that transforms ideas into creative realities. In the ever-inspiring world of creativity, mood boards stand as the guiding stars, illuminating the path to boundless innovation and visual excellence.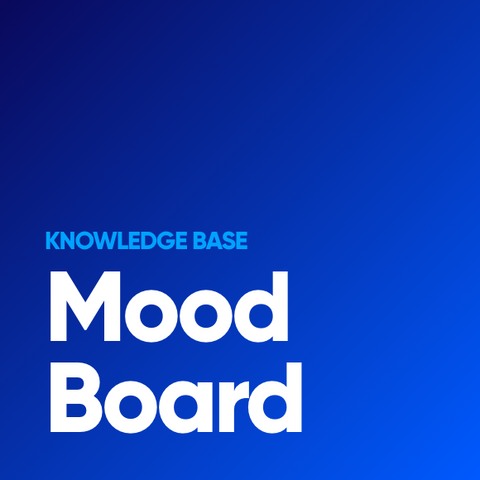 Mood Board