Energize Your Conversions with Landing Pages: The Dynamic Gateway to Success
In the vibrant and fast-paced world of digital marketing, where every click holds the potential for success, the landing page is a dynamic masterpiece. It's the unsung hero of web design—a single-purpose web page meticulously crafted to captivate visitors and drive them toward a specific action. Landing pages are the dynamic gateway to conversions, and in this energetic exploration, we'll dive into the world of landing pages, decode their significance, learn how to create high-impact ones and celebrate their role in catapulting your business to new heights of success.
Demystifying Landing Pages
Let's start with the basics. A landing page is a dynamic, standalone web page created with a single purpose in mind: to convert visitors into leads or customers. Unlike your website's homepage, which serves as a dynamic introduction to your brand and offers a wide range of information, a landing page is hyper-focused. It's designed to entice visitors to take a specific action, such as signing up for a newsletter, downloading an e-book, registering for a webinar, or purchasing.
Landing pages are like dynamic, digital salespeople. They cut to the chase, highlight the value proposition, and present a compelling call to action (CTA) to drive conversions. These dynamic pages eliminate distractions and keep visitors on a clear path to the desired outcome.
The Dynamic Significance of Landing Pages
Landing pages play a crucial role in the digital marketing landscape for several compelling reasons:
Conversion Powerhouse: Landing pages are dynamic conversion machines. They can turn casual website visitors into paying customers when designed and executed effectively.

Focused Messaging: Unlike websites with multiple pages and diverse content, landing pages deliver a concentrated, dynamic message. This focus ensures that your offer's value is crystal clear to the visitor.

Enhanced Tracking: Landing pages provide dynamic, precise data on visitor behavior. You can track conversions, measure ROI, and gain insights into your audience's preferences and needs.

Targeted Campaigns: Dynamic landing pages perfectly suit targeted marketing campaigns. Whether running a PPC (pay-per-click) campaign, social media ads, or email marketing, you can tailor each landing page to match the audience's intent.

Improved SEO: If optimized correctly, landing pages can dynamically improve your SEO efforts by aligning content with specific keywords and improving relevancy for search engines.

A/B Testing: Dynamic landing pages make A/B testing a breeze. You can experiment with elements like headlines, images, and CTAs to discover which version delivers the best results.
Crafting High-Impact Landing Pages
Creating a dynamic landing page isn't just about throwing together some text and images. It's a dynamic art form that requires careful planning and execution. Here's how to craft landing pages that captivate and convert:
Clear Value Proposition: Your landing page should have a dynamic, clear value proposition. Visitors should instantly understand what's in it for them. Use compelling headlines and subheadings to convey this value.

Eye-catching Visuals: Dynamic imagery or video content can help break up text and make your landing page visually appealing. Ensure that visuals support your message and don't distract.

Concise Copy: Keep your dynamic copy concise and to the point. Visitors should be able to scan the content and understand your offer without wading through paragraphs of text.

Compelling CTA: Your call to action is the dynamic heartbeat of your landing page. Make it bold, clear, and irresistible. Use action-oriented language, such as "Get Started," "Download Now," or "Sign Up."

Form Optimization: If you're collecting visitor information, keep your form fields to a minimum. Long forms can be a dynamic turn-off. Ask for only what you truly need, and consider using dynamic form validation.

Dynamic Social Proof: Showcase dynamic testimonials, reviews, or trust badges that lend credibility to your offer. Social proof is a powerful conversion tool.

Mobile Optimization: In the dynamic era of mobile browsing, your landing page must be mobile-friendly. Ensure it looks dynamic and functions well on smartphones and tablets.

Consistent Branding: Maintain dynamic consistency with your branding. Ensure that your landing page visually matches your website's aesthetics and messaging.

Urgency and Scarcity: Dynamic elements like countdown timers and limited-time offers can create a sense of urgency, compelling visitors to take action now.

A/B Testing: Regularly conduct dynamic A/B testing to refine and improve your landing page. Small tweaks can lead to dynamic increases in conversion rates.
Celebrating the Impact of Landing Pages
Landing pages are a dynamic testament to the power of focused messaging and clear calls to action. Their impact is multifaceted, and it's worth celebrating the many ways they can benefit your business:
Lead Generation: Dynamic landing pages are ideal for generating leads. Whether you're collecting email addresses or other contact information, they provide a clear path for visitors to connect with your business.

Sales Conversion: For e-commerce businesses, landing pages can be dynamic tools for driving sales. They highlight product benefits and create a compelling case for purchase.

Event Registrations: Hosting a dynamic event or webinar? Landing pages streamline the registration process, making it easy for attendees to sign up.

E-book or Content Downloads: If you offer dynamic content like e-books or reports, landing pages facilitate downloads. Visitors get what they want, and you capture valuable leads.

Newsletter Subscriptions: Landing pages are dynamic for encouraging visitors to subscribe to your newsletters or updates, allowing you to nurture relationships over time.
The Digital Evolution of Landing Pages
In the dynamic digital age, landing pages have become more than just standalone web pages. They're part of comprehensive marketing and sales funnels, guiding visitors on a dynamic journey toward conversion.
Dynamic Ad Campaigns: When running dynamic ad campaigns on platforms like Google Ads or Facebook, each ad can lead to a different landing page, ensuring a hyper-targeted experience.

Email Marketing: Landing pages are often linked from email campaigns, serving as dynamic destinations for subscribers to take action on special offers or content.

Dynamic Personalization: With dynamic personalization tools, landing pages can adapt to visitors' preferences and behaviors, making the experience even more engaging.
The Future of Landing Pages
As digital marketing and web design continue to evolve dynamically, landing pages will remain at the forefront of lead generation and conversion strategies. Dynamic AI and machine learning tools may enable even more personalized and effective landing pages.
Voice-activated devices and the rise of dynamic voice search could also impact how landing pages are designed and optimized, catering to an audience interacting with the web through spoken commands.
The Dynamic Catalyst for Success
In the dynamic digital marketing journey, landing pages are the catalysts that propel visitors toward conversion. They are the dynamic, focused gateways to success, where every click has the potential to translate into a lead, a sale, or a loyal customer. So, let's celebrate landing pages for the dynamic assets they are, continually refining our skills and strategies to create pages that captivate, convert, and energize our businesses in the ever-evolving digital landscape.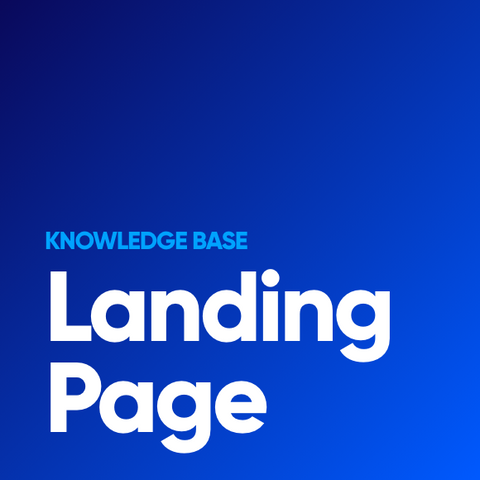 Landing Page