A graphic designer's job description in a full-time role is very simple and linear.
But, what is a freelance graphic designer's job description? This question is extremely relevant because the US Department of Labour, recently concluded that over 60% of graphic designers in the United States are self-employed.
This is an expected consequence of the world moving online and companies often outsourcing design work. Companies offload the cost of hiring and retaining talent, which can be quite high while graphic designers operate with a certain degree of independence and at the same time build a life that compliments their creative nature. So what is expected of them and what benefits do they enjoy? 
What is expected of freelance graphic designers?
What does the day-to-day look like for a freelance graphic designer? Well, most of the requirements of in-house designers also apply to freelance designers. 
Graphic designers are tasked with creating visual versions of brands, messaging, and communication. They create accurate and visually pleasing design concepts, that drive a business intent. Creativity is very much a part of this conversation, where designers apply a creative approach to problem-solving. The business objectives and the creative limits can vary largely based on client requirements, which creates so many designers across various specializations. However, there are some common expectations:  
Working with clients and stakeholders to understand the desired output from a design project, and getting ideas out in a workable manner. Usually achieved with the help of creating design briefs, understanding required deliverables, and then creating them.





Designing brand and communication collateral across digital and print mediums. This can include logos, brand identities, business cards, brochures, presentations, brochures, books, book covers etc.





Pitching ideas to bring client projects to life.





Revising design ideas and solutions to fit a client's budget and project limitations.





Creating designs by hand, drawing, painting, or using computer software. Often a combination of 2 approaches.





Working within brand guidelines and design systems for a project to deliver creative work that's aligned with the brand they are working for.





Working as a team on a larger project, understanding project-specific individual responsibilities, while contributing to the team by suggesting creative solutions. 
What do the wages look like? 
Freelance graphic designer salaries, especially hourly rates are split across the spectrum, if we consider salaries across the world. Even in the United States there is a large range starting at around $13.5 per hour all the way up to $200 per hour. 
In a traditional in-house design job, annual salaries range from $30,000 to $82,000 with an average around $50,000 a year. Based on your skill level as a freelance designer, you can choose to work as much or as little as possible while also charge as little or as high as you want. 
Entry level designers starting out as freelance designers especially in the United States can expect to be at the beginning end with making around $25 per hour to $35 per hour. However, this can change based on the job requirements. A mid-level designer with 5+ years of experience can expect to make $40-$65 per hour. A good measure when seeking designers online, is to see what freelancers are charging for a ceratin service. Provide a salary range to attract multiple applications from designers with varying prices and degree of proficiency. 
If these numbers seem high to you as a client, its ideal to seek designer overseas, with countries like the Phillipines, Pakistan and India having the most affordable design talent. 
Education background
Many people argue that Graphic Design does not require professional education, there are alot of important inclusions within professional graphic design programmes, that self taught practitioners miss out on. This is not to say that self taught designers aren't proficient, they simply learn through experience which can be longer than what a designer learns in a Bachelors program. 
Professional graphic designer, in house or freelance undertake intensive studio, color theory, typography, computerized design, website design, print design, communication and advertising classes. WIth graphic design as their majors, they also take certain art classes which study the techniques and the history of art. They are quite literally taught art. 
By teaching art, I mean the ability to seek ideas, conceptualize those ideas, combine various techniques to create those compositions and ultimately presenting it in a desired output. This ability to take ownership of the creative process, effective application of creative techniques and getting to a tangible output is what self-taught designers often lack. Generally, falling short in one of the above mentioned domains. 
Their essential skillset
The skillsets of designers differ across disciplines and specializations. There are certain hard skills that they need to have mastery in: 
Communication Design

Art History

Color Theory 

Typography

Fine Art 

Illustration

Printing Techniques
This is simply the most basic knowledge and skillset. Most designers often have a far advanced skillset, using a plethora of tools and techniques to create their design work. 
Personality and soft skills
Graphic designers are creative people. All fun, quirky and talented in their own unique way. Beyond the hard skillset, a graphic designer needs to have a solid set of soft skills that make them effective at what they do while ensuring peace of mind for you as a client. 
Here's a set of soft skills that are expected from freelance graphic designers:
Highly developed communication skills, especially to relay requirements, interpret briefs, collaborate with a team and explaining design decisions.

Creative problem solving with to design and visual communication.

Analytical skills, spot issues and problems, to then rectify them.

Time management skills

A passionate approach to design, treating design as in instinct and less of a skill.

Confidence and presentation skills to present ideas to co-workers and stakeholders.

Attention to detail and commitment to accuracy.

Open mindedness to accept feedback and make changes to designs when required

Networking skills, to source additional talent for projects when required
The right choice
When creating a job description for your next graphic design hire, you can factor in various requirements that you may have from your designer. The knowledge from this article will help you craft a job description that attracts the right talent, and with the same job description, you can pick the right candidate. Knowing what a good designer should know and have, it becomes really easy to hire them.
If you, a freelance graphic designer is reading this, the skillset above is the base level requirement for every graphic designer working on projects in the real world. Ideally you should check as many boxes as you possibly can to get hired for projects more often.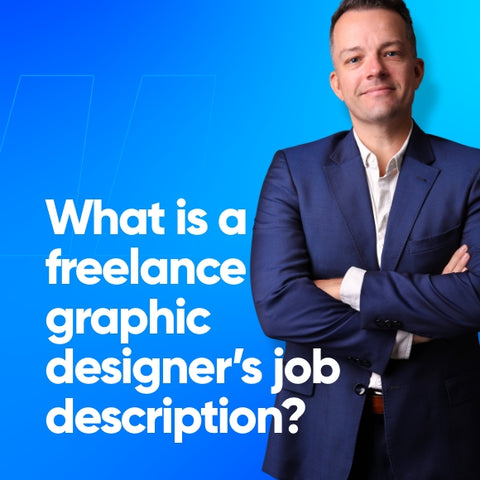 What is a freelance graphic designer's job description?
Then, pick one of these:
---
Third, try these:
---