Yes, 100%. Today on The Shortcut, I'm teaching you how to do it the right way!
I'm going through the ten steps to building a freelance foundation and never having to rely on a full-time job again.
But I'll let you in on a little secret. You don't HAVE to quit, sometimes doing both is a huge power move.
Moving from a full time job to a freelance career building a large portfolio of freelance projects is huge power move in 2023.
Taking control of your financial future from your employer and building your own roster of new clients will help you become a full time freelancer in no time.
Stay tuned to the end for my pro-tip of the day to make your freelance career take off like a rocket.
Check out my freelancing coaching products:

Step #1 - Check your employment agreement
This one is a disclaimer, but I don't want you to get in trouble. 
Businesses know your individual skills are much more expensive on the open market. 
So in exchange for the "full-time income" drug, they give you to keep you hooked, they can often limit what you can and can't do.
Look through your employment to ensure you're not breaking any rules that can get you in trouble.
Always double check, and if you're unsure, have an attorney look at your agreement and tell them you want to start freelancing part time to start.
When building your freelance career, it's important to consider your full time job and any implications getting freelance projects may have on it.
Disclaimer over. Let's get to the good stuff!
Step #2 - Start reaching out to new clients
Everything comes after sales. That's why I put it first.
The vast majority of freelancers struggling haven't spent enough time on sales.
No matter what niche you decide on as a freelancer, whether you want to be a Virtual Assistant, Graphic Designer, or Accountant, you'll struggle without sales.
Sales, in the beginning, will be extremely difficult.
The reason it's difficult in the beginning is that you have no proof that you can do the job. 
Practicing your sales skills, learning how to handle objections, and building relationships is critical to your success.
Start practicing sales right away.
The easiest way is to go to LinkedIn and type "hiring graphic designer" or "hiring accountant" in the search bar.
Sort by posts, and start contacting people looking for your freelance services. 
Get in touch with people daily. Initially, it's mainly about practice, but you'll get there and increase your conversion rate.
Step #3 - Setup your personal brand on social media
Speaking of LinkedIn, it's time for step 3, building your online presence.
Don't go crazy here. You can build your freelance business using only LinkedIn.
You can easily make 6-figures on this platform as it's a business platform, and people are there looking for freelancers to do business.
You don't need to be on 6 social media channels at once. That can come later.
For now, there are a few critical steps for your LinkedIn account that apply to your other channels.
The first is having a great profile image and banner with a call to action.
The second is using all of the 2,600 characters allowed in your About section.
The third is to start posting by talking about a daily lesson you learned, then start building educational content that will help potential freelance clients.
Developing your writing skills are a good way to build your personal brand.
Start working right away on your personal brand and you'll be able to skip the office environment forever and start work full time as a freelancer.
Step #4 - Setup your freelancing accounts
Freelance platforms like Upwork are incredible for getting freelance work.
Clients on these platforms are already looking for you and are in buying mode. 
Your job is to communicate that you're the one for the job!
But how do you do that?
First, you want to be found easily, which means that just like you did on LinkedIn, is to have a completed profile.
But, in Upwork's case, they give you 5,000 characters for your main profile and 5,000 for each of your specialized profiles.
Ensuring that your profiles are complete makes you more likely to appear in search results, get invited to projects, and close more deals.
The next step is to make 20 services for your project catalog. These will eventually be used on your website and on Fiverr (another freelance platform) later.
With each of your 20 services, break these down into 3 variants with a high, middle, and low price to appeal to all budgets.
Adding a professional profile image is important; keeping this consistent across all platforms is incredibly important.
Next up is your portfolio. You probably won't have much here to start, but even if you have to make up some demo pieces, it's better than having nothing.
Step #5 - Setup your website
I use Shopify for my website, and I recommend this platform. I've linked it in the description so you can start your website for free.
Remember that your website will never be finished. 
The point to your website is to get a basic page up and running, then let it evolve naturally to answer client's questions.
Your website is the only place online where you can build everything your way, and this should show off your creativity and ability to solve problems.
I recommend having a home page with a simple breakdown of the main problem you solve, a client testimonials section, a who you help section, your portfolio section, and a contact section where potential clients can schedule an appointment.
From there, the About, Contact, Portfolio, and Services sections are the next to add.
Step #6 - Start getting organic traffic
Building inbound sales (when clients come looking for you) is the hold grail of success.
This happens by writing content that helps your potential clients establish you as an expert in your field.
But how much content should you write?
I suggest writing for at least 20-30 minutes daily and posting this to your site.
Aim for about 100 content pages with 3-4,000 words on each page.
Yes, it sounds like a lot, and it is, but within your first year, you'll be bringing in organic traffic, and almost no other freelancers do this.
If you write this amount of content on your website, you will be ahead of 99% of freelancers by the end of the year.
Aim to be consistent with writing and posting content, and you will win. It is guaranteed because so few others do this.
Step #7 - Make receiving payments easy
Your goal with payments is to make it as convenient as possible for a customer to purchase from you.
Many freelancers are so excited just to get a project that they skip the ability to be paid easily.
Especially if you're not a U.S., Canada, or Europe-based freelancer.
Find the payment provider that works for your region and learn to make the process as simple as possible.
The way I do it is to direct each client to a particular service on my website.
From there, they can simply add it to their cart and checkout.
It's the easiest way to do it, and it solves the problem of chasing people down for unpaid invoices.
Step #8 - Setup your business and accounting
I skipped this in the beginning, but it's incredibly important. Don't make my mistake.
Every creative person I've talked to hates it, and so do I.
Get yourself an accountant, a subscription to accounting software, register your business, and you're there.
For most freelancers, you only need weekly bookkeeping to keep up with your finances.
Step #9 - Schedule your day
Growth doesn't happen in leaps and bounds.
It's all about the consistent application of forward momentum.
One of the most powerful things you can do is list what you would like to achieve each day.
I recommend starting with sales, 30-40 contacts, then spending the rest of your time building your personal brand.
Your personal brand can be anything you can move forward, 1 or 2% daily. 
Your pitch, presentation, portfolio, and website are great pieces for your brand to evolve constantly.
Step #10 - Reverse engineer your goals
One thing for sure is that your goals will change as you grow.
That's called progress.
But just because your goals will change, it's still important to define A goal, ANY goal.
Pro-tip of the day!
The pro-tip of the day is always to make a goals list for the following day. 
Give yourself 3 easy to complete goals each day to keep you on track to your goals. 
For example, "I will send out 30 contacts today," "I will add 1 project to my project catalog," and "I will improve my website."
By making this daily goals list, you'll start your day with a few wins and set the momentum for building your freelance future.
I'm Scott Luscombe, your freelance coach, I'd love to help you with your freelance journey. 
Working remotely as a side hustle to start may be hard work in the beginning but can turn into a full time freelance career in just your spare time.
You are well on your way to becoming your own boss with a full time career as a freelancer and making the freelance transition from your salaried job, to one where the sky is the limit!
When you go all in on freelance jobs, even on a part time basis in freelance writing as a content writer can have massive benefits to your bottom line.
The best thing with this new adventure of freelancing is that you will make more money on the side and increase your financial security.
Having your income come from multiple sources is always a good idea to diversify your income portfolio.
Remote work with your freelance job allows you to do more with your free time as you're typically saving 1-2 hours per day commuting to an office.
Save time in your day to spend with your family, or whatever you choose is a massive benefit of having a freelance job.
How much time you're saving every day will really shine through once you start a full time freelance job as you'll start charging higher rates.
Your hourly rate as a freelancer is often much higher than in a full time "9-5" job simply because you're often spread between 20-30 different clients.
The extra income you receive from working full time as a freelancer is immense, and in 2023 it is a perfect time to switch from working full time in your 9-5 and becoming a freelancer.
It's often thought that freelance gigs typically have a low rate of income, being supplemental instead of a valid career. For over twenty years I have been bringing in new freelance project, after new freelance project, and although I am a long way from finished, I can confidently say that freelancing has been a savior, giving me significant extra income in good times, and keeping me afloat in bad times.
The extra income you can receive on a monthly basis in your freelancing career is outstanding and can lead to new work opportunities both full time and part time. This is an incredible opportunity for your freelancing business and one that should be taken seriously.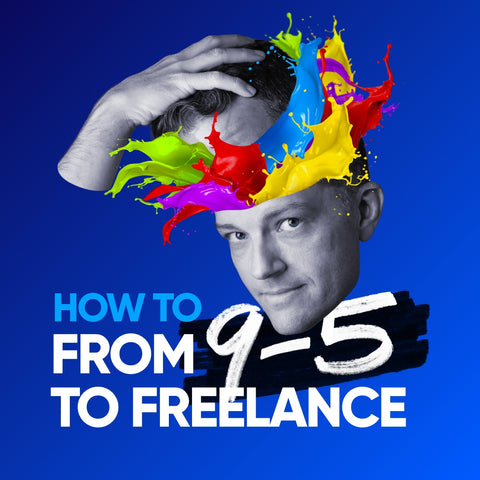 Should I start freelancing with a full-time job?
Then, pick one of these:
---
Third, try these:
---