Shopify Accounting: Best Practices for eCommerce Businesses
Picture this: your Shopify store is finally getting some traction. Your brand is getting noticed, and the products are flying off the shelves (if you had any); yes, drop shippers, we see you). But now, it's time to get to business, yes, accounting. But fear not; accounting is more exciting than it seems. With a slew of accounting software, you can easily manage your books; some have even gamified the experience to make accounting more fun.
Why do you need Accounting for your Shopify Store?
A thriving business, eCommerce or otherwise, is built on sound financial management. With it, it's a business to begin with. Inaccurate data, a hazy sales record, and mismanaged books can harm you and your business. So, how do you ensure that your business is in good shape? Here are a few things to know as an eCommerce business owner.
Cash Flow
Knowing your cash flow on a monthly, quarterly, and yearly basis is the lifeblood of your business. To have a profitable venture, you need the money coming in to be greater than the money flowing out. But you need more than just knowing your cash flow; you must also push to optimize your cash flow. It would be best if you looked to increase the difference between the money coming in v/s the money flowing out; that's how you turn a profit and grow.
Monitor the Core Components
Every business on this planet has a set of core components that need close monitoring to keep costs in check. Without this, you wouldn't know where to scale back and cannot fund new ventures in the future.
Assets: These are your business's possessions. The company owns inventory, office furniture, machinery, vehicles, etc. These are the things that you own, and they make it possible for you to be in business.

Liabilities: Be aware and on top of any outstanding debts or loans your business owes. Whether it's a bank loan or accounts payable, understanding and managing these is vital to maintaining long-term financial health.

Revenue: Revenue includes all incoming cash, such as earnings from sales, affiliate partnerships, and any other revenue streams that keep your eCommerce business afloat. Revenue is all the incoming money into the business bank account. From here, we can then calculate net and gross margins.

Expenses: Managing outgoing cash is equally crucial. Your expenses cover a broad spectrum, from inventory procurement to salaries, packaging materials, and beyond. For a small store, these could be freelancer fees and subscriptions. Controlling these expenses is critical to preserving profitability.

Equity: Understanding your equity is crucial as it affects decision-making and investments. For example, if you're a sole proprietor with no external investors, you own 100% of the business.

Key Growth KPIs: Tracking growth metrics, like customer acquisition cost or customer lifetime value, is crucial for optimizing your business strategy and improving your bottom line.
Keeping a close watch on your assets, liabilities, revenue, expenses, equity, and growth KPIs is essential for surviving and thriving in the ever-evolving eCommerce business world. That's where accounting software comes in.
The Best Accounting Software for Shopify
The best Shopify accounting software in today's market is cloud-based. Cloud-based software can be accessed from any computer worldwide and on your phone. In the case of an online business, cloud-based software provides accurate accounting by limiting errors during data transfer, as most data gets added automatically. This is a significant advantage compared to traditional tally, which requires using one machine or network. You can also integrate all of your sales channels (IG Shop, TikTok Shop, Shopify) and financial data in one place.
Below, we have compiled a list of the best software currently available in the market to help you determine the best accounting system for your online business. There are free and paid options starting at just $5 a month.
FreshBooks 
FreshBooks is our top accounting software pick for Shopify. It's excellent for startup owners, freelancers, and small businesses. With support for more than 150 currencies, it's also a suitable choice for international stores where global sales tax compliance becomes a concern.
The Pros
Exceptional customer support ratings.

Time and mileage tracking capabilities are included across all subscription levels.

An extensive array of cloud accounting functionalities.

Customizable Templates for Branding.

Mobile App Function.
The Cons
Limited inventory management, which may need extra software.

Complex projects can be challenging to manage.

Steep learning curve for new users.

Slow performance with extensive data.

Time-consuming, demanding financial reports feature.
Price: Plans start under $20/month
Shopify App or Integration: Yes
Wave
Wave is the only free accounting software on our list for eCommerce accounting. The target audience for this software is small business owners and freelancers. And rightfully so, this free tool is easy for those with little understanding of business finances. The product is only limited to users operating in Canada and the US.
The Pros
Wave accounting is free.

Full user control, no user limits

Create endless invoices with customizable templates

Mobile app for invoicing and accounting
The Cons
Single free plan with limited functionality and scalability.

Lacks project, time, and inventory features.

Customer support relies on a chatbot; live support needs an Advisor or paid service.

No phone or email support options are available for users.
Price: Free
Shopify App or Integration: Yes
ZohoBooks
Zoho Books is perfect for small businesses already utilizing other Zoho apps for inventory, invoicing, or customer relationship management. This cost-effective, cloud-based accounting software streamlines business processes and offers robust invoicing features, effective inventory management, and a user-friendly mobile app.
The Pros
Provides a free plan.

Abundant features encompass top-notch invoicing and inventory control.

Workflow regulations and a proficient mobile application.

Paid subscriptions get access to phone support and live chat assistance 24 hours a day and five days a week.
The Cons
Coding skills are required for Zoho's automation features, which are potentially challenging for less tech-savvy owners.

Monthly transaction and user limits may deter high-volume businesses.

Even the highest tier plan caps the number of users at 15, with each extra user costing more.
Price: Free and Paid, starting at $20/month
Shopify App or Integration: No
Zapier Integration: Yes
Intuit Quickbooks Online
QuickBooks Online offers multiple resources for small businesses to get on top of their financial records. With a straightforward interface and user-friendly reporting tools, even newcomers can become proficient with the software. Every package has features for mileage tracking, managing income and expense tracking, generating sales and tax reports, and handling 1099 contractors.
The Pros
Anywhere Access: Access financial data remotely, fostering flexibility.

User-Friendly Interface: Intuitive and easy for users of all levels.

Comprehensive Features: Income tracking, tax reporting, and contractor management.

Scalability: Plans adapt to business growth, including inventory tracking.
The Cons
Easy data changes, the potential for errors or manipulation.

Performance issues in cases of sudden growth.

Limited features and time-consuming customization.

Frustration with integration options; careful research is needed.
Price: Paid, starting at $30/month
Shopify App or Integration: No
Zapier Integration: Yes
Xero
With its user-friendly and sleek design, Xero is the perfect accounting solution for business owners who are new to accounting. It offers basic inventory tracking on all plans, which is ideal for small online retailers. Xero provides an accessible solution for managing finances and monitoring stock levels for small Shopify businesses.
The Pros
Xero offers a robust integration with Shopify, simplifying sales reconciliation.

Users find Xero's app extremely useful, particularly for Shopify sales reconciliation.

Xero makes it easier to collect and manage sales data automatically.

Xero's integration is highly recommended for e-commerce businesses.
The Cons
Xero may suffer performance problems under heavy loads, impacting efficiency.

Xero cannot set reorder points for inventory restocking.

The software allows for easy data changes, which can expose users to potential errors or manipulation.

Xero's customer support focuses on online forums and has limited availability of good support resources.
Price: Paid, starting at $7.50/month (Entry-level plan is limited to 20 invoices)
Shopify App or Integration: Yes
Our Top Pick
When it comes to basic accounting tasks, any accounting tool out of the five mentioned above would do a good enough job for your business. But the top pick across multiple industries comes out to be FreshBooks. FreshBooks offers the most feature-rich application with excellent customer support and branding incorporation out of all the cloud accounting software on the market. With paid plans starting at just $17/month, it's the cheapest tool out there for your buck. If free is more your jam, then Wave Accounting would be the fit for you.
Final Thoughts
All said and done, not all businesses are alike. The type of business affects what its accounting software needs to do. Companies that sell products at scale need detailed financial reports to take control of their bottom line. While service-based businesses make fewer sales at high ticket prices and where clear financial statements are optional, they may need a more basic set of features.
Many of the tools mentioned above offer free trials before purchasing. This is a good way of testing these tools and then taking your pick of the litter. You can take your time familiarising yourself with the tools, diving into the individual feature sets, and only take the final call.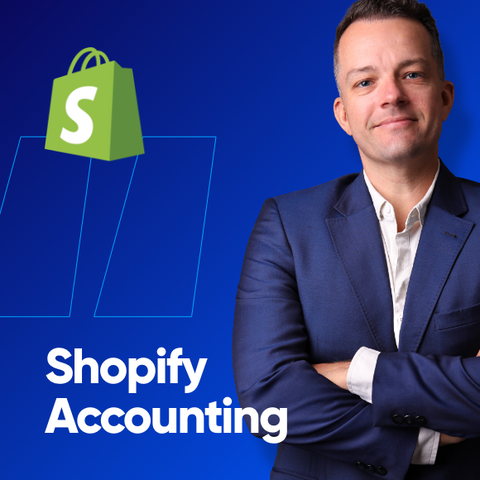 Shopify Accounting