A freelance graphic designer's work life
Freelance graphic designers are extremely talented designers and business people. A freelance designer does every piece of work that graphic designers in full-time roles are expected to do but also have to perform other business tasks that are expected of a consultant.
The design side
First and foremost, all the skills that a full-time designer has, freelance designers, need to have those too. This includes the design essentials like typography, an understanding of color theory, creating layouts, photo manipulation, etc. Web designers will be expected to know HTML and CSS in addition to basic graphic design skills. Knowledge of software should also be thorough, especially with Adobe tools like Photoshop, Illustrator, Indesign, and XD.
Beyond the basics, a freelancer should ideally have one specialization (niche) that they operate in. They must have in-depth knowledge of a certain type of design. If you are a packaging designer, you should know how to design a package, the kind of files you need to set up, and also understand the printing process. An advertising designer should know all the basics of creating ads like sizes, placement, and readability. The client who is hiring a freelance designer expects them to know how to start a project, how to build it, and how to get it to production.
Freelance graphic designer needs to be a master of their craft. While freelance designers are hired at all skill levels, to be truly successful, you should understand the entirety of a project. The designer is expected to know about all the moving parts that go into a graphic design project. For example: In a social media design project, the designer must understand the creative brief and the brand identity provided to them, and then create social media collateral in line with the brand guidelines. Once complete the relevant files are the expected output. They should know how to work with copywriters and digital marketers to complete a project successfully.
This would apply to any and all projects, where the designer must take ownership of all design tasks. And, if anything falls out of his or her skill set, they must also know the right recourse to complete the task (subcontracting, seeking a new freelancer, using templates, etc.)
When working as a freelance graphic designer, there is a lot of learning on the job, with most projects having a new requirement from the designer. Given a larger number of employers, one needs to be proactive. Adaptability is one of the greatest skill sets, clients will often come to you with design problems, some maybe even out of your purview. It's up to you as the designer to suggest the best ways to meet their goals.
Most successful freelance designers, understand their process and build a system around it. So when they do onboard a new client, they can take the guesswork out, and immediately know what needs to be done. While their routines can be of their choosing, these systems are what sustain the freelance lifestyle.
The freelance side
The freelance side of a freelance graphic designer's job is very similar to running your own business. This means the business needs to make money and do so consistently with a certain degree of predictability. This largely entails getting more clients and more projects in the door. Turn them around in a desirable and timely manner, to make money. There's a lot that goes into accomplishing this.
First and foremost is setting an hourly rate for their freelance design services which cover any costs of the freelancer, the business expenses, and overheads. The freelancer market in your country can often provide a good idea about what you can charge for your services. If you work on a project basis, it's recommended to base it on some form of hourly estimate, so you are compensated fairly for your work on a freelance design project.
The next is client acquisition. Graphic design jobs are available at all skill levels and the overall demand for designers is high. It may seem like clients prefer to work with a handful of designers, and that can be discouraging to many aspiring and beginner freelance designers. Best graphic designers know that getting new work in is equal parts relentlessness and empathy. Relentlessness in letting freelance clients know that you provide a service, and empathy convinces them that you are the right service provider for them. You need to automate client acquisition by making it a cardinal part of your daily routine and also have a proposal or pitch that turns potential clients into paying ones!
Project management is another major inclusion in the responsibilities of a freelance graphic designer. Freelance work is different from working in-house, and as a freelancer, you must know how to run a successful project. The project scope, how long it will take to complete it, and lastly ensuring that it's delivered in a timely and desirable manner. For example; a web design project contains multiple moving parts. So as a web designer, you should know how all the people involved in the project complement each other's work. Most clients would want the designer to provide a comprehensive breakdown of all the deliverables and how they would go about accomplishing them. Based on the size of the organization, there will be different levels of project management requirements, it's important the that designer knows them and can adapt accordingly.
To retain clients at the end of a project, the freelancer must provide tangible next steps for the business that ensures that they have more work from the same client. It is at this stage the freelancer can also seek referrals for prospective clients from their current clients (this is what we call hot leads)
The last but not least, freelance graphic designers are responsible for any admin and promotional tasks for their business. Admin tasks specifically include invoicing, sending out proposals, managing books, updating the website, following up on leads, etc. Promotional tasks would include posting work on social media, building a personal audience, digital marketing, and any other activity undertaken to build the brand. This helps attract authority to the freelance, ultimately leading to new inbound leads.
The work-life balance
The work-life balance is often romanticized, with the idea that they don't work a lot and get paid disproportionately for the work that they do. This is not true, as you will learn very soon that this freedom requires work. Freelance designers work as much as anyone else, sometimes even more. It is the systems that they build that allow them to scale their earnings.
The freedom
The work-life balance is the most coveted result of a freelance lifestyle. Don't let social media or the generic images fool you, it's not all mimosas on the beach or people chilling in remote offices.
But the work-life balance that freelance graphic design provides is still great. You get to pick your hours of work, you can work remotely from pretty much anywhere in the world. You can work early mornings, late nights, three days a week, or seven days a week. All you need is a laptop and any design tools that you need. A designer, working on a logo design project can work with a laptop and a notebook from virtually anywhere in the world. As long as client expectations are met, it doesn't matter how you got the work done. You are your own boss.
The money
This also means that you can choose to work as much or as little as possible. If you want to make more money, you amp up outreach, production, and marketing. If you want to relax and take things slow, you deliver on your current commitments and adjust accordingly. You are in control of how much you make. This isn't simply jacking up the prices on clients, but a result of carefully stacking high-value skills to consolidate multiple roles in one.
Your compensation will highly depend on the value you provide. A logo designer who also works on building brand identities, marketing collateral, and social media assets is immediately more valuable than one who only does logo design. The more skills you stack, the more you make.
The responsibilities
We talked about the work that freelance graphic designers do in the previous paragraphs followed by the freedom and compensation that this line of work provides. This freedom however is a double-edged sword and wielding it carefully is what's required for a fruitful and long career.
The part about being your own boss is great, but you need to understand that you are the only one keeping yourself accountable. You will have to define what needs to be done, when it needs to be done and how. Then follow it by putting in the work.
Most successful freelance graphic designers have systems they work within. This automates the project management part of projects and helps them scope similar projects. In addition to this, they also automate business-related tasks like outreach and invoicing by making it a part of their routine. This routine keeps them accountable. If they meet the demands of a routine, that is great, if not, they need to make adjustments. Given the complexity of individuals, it's not a one-size-fits-all. You will need to experiment to see what routine works best for you.
What challenges do freelance graphic designers face?
Getting a freelance practice off the ground can be the steepest slope to scale, and starting is the most difficult part. Other challenges come with the day-to-day operations of being a freelance graphic designer.
Challenges when starting out
As mentioned, starting can be the hardest part of being a freelance designer. In the beginning, there is a desperate need to get clients in the door, set up the website, start producing work, and a 100 other decisions that you will need to make as a business owner and designer.
As much as we'd like to tackle all the challenges head first, prioritization will be the key here. Keeping the essentials in mind, you can start freelancing from home, which takes out the stress of renting office space. You can use free or relatively affordable tools for invoicing, prospecting, project management, and other business tasks. To ensure a steady stream of clients, you can make prospecting a part of your daily routine. You can also make a dependable routine, which helps you accomplish all the prioritized tasks promptly.
Think of it like this, yes, you need a social media account on Instagram, it's 2023! But, do you really need one right when you're starting out? If you aim to make Instagram a primary source for new leads, then yes sure, go ahead. Otherwise, first, hone in on professional tools like LinkedIn and Upwork. Instagram can wait. Similarly, do you really need full-scale project management tools with all the latest bells and whistles to make you a productivity ninja? Or can you use a basic Notion template, which you can then modify, and if need be, upgrade to the Project management tool?
Prioritization and building daily systems around those priorities are what will be highly essential when starting. Your goal should be to get the clients coming in, as soon as possible and at the rate that you desire. Everything else can wait.
Career challenges
As a freelance graphic designer, you will need to have a thick skin and an optimistic mindset at all times. At least towards your career and business. This will be highly useful when we talk about the career challenges that freelance graphic designers face.
Freelance graphic designers don't have a professional ecosystem that they are a part of. No boss, no promotions, no resource support, and no increments. At least not in the traditional sense. You are your own boss, so it is up to you to help find the right people and resources to build your network, upskill yourself and advance your career. If you are looking for an increment, you will need to charge a higher rate, which often means learning a new skill. It's why we see web designers learning web development so that they can consolidate two roles into one freelancer and consequently charge a higher rate. As a freelance designer, you will have to constantly learn, be on top of new techniques, and constantly advance your skillset.
In addition to constant upskilling, you will be responsible for handling client relationships. You must be comfortable talking to new people and seeing new faces every day. At the same time, managing client expectations will also be important. As a practitioner, you will have to inspire confidence in your abilities by delivering quality work and as a business owner, you will have to foster a good professional relationship. Strong communication and presentation skills will be at the forefront of relationship building.
Why should you consider being a freelance graphic designer?
Being a freelance designer is highly challenging but proportionally rewarding as well. It's a welcoming career for most, but being a freelance graphic designer is not for everyone.
If you are someone who thrives on challenges and is comfortable doing different work on different days, it's a career choice for you. In a single week, you can go from designing a logo to building a website to doing admin tasks for yourself, updating your portfolio, then a social media post to virtually anything else. If done right, there's a method to this chaos. A dependable routine and baseline systems will help navigate this uncertainty.
You are also a creative individual, looking to find creative solutions to everyday problems. Most of the time you would be helping clients make visuals and design work interactive and tactile. You would be given a business output and you will have to design collateral to achieve that. A packaging that attracts children or a banner that advertises clothing for a fashion brand. They define the output, you provide the visuals to support it.
All clients are not the same, some are more relaxed and patient while other can be erratic. Not to promote working with unkind people, but most disagreements between freelancers and clients can be resolved. You need to have to ability to absorb feedback, both negative and positive, while separating your emotions from it. You should be able to keep your clients focused on the work being done. Make sure they abide by the scope of work and payment terms proposed by you. It will be up to you to complete projects and ensure you get paid for them.
Lastly, you love a routine and optimizing for productivity. Successful freelancers are some of the most productive individuals you'll meet, with schedules and systems for almost all aspects of their lives. If you choose to be a freelancer, you will need to carefully pick and choose your working hours to optimize for this productivity. Yes, they can be at any hour during the day, so when you do choose to work, make sure you bring your best to it.
Conclusion
Like any other career, freelance graphic design is full of risks and rewards. You get to be your own boss, set your own hours, and control how much you can earn. With a degree of creativity, passion for solving problems, and relentless productivity; this lifestyle of freedom is up for grabs. A hunger to learn more will be important so will having a thick skin to brave the challenges of being a freelance designer. All this combined with communication and presentation skills will set you up for a life of success.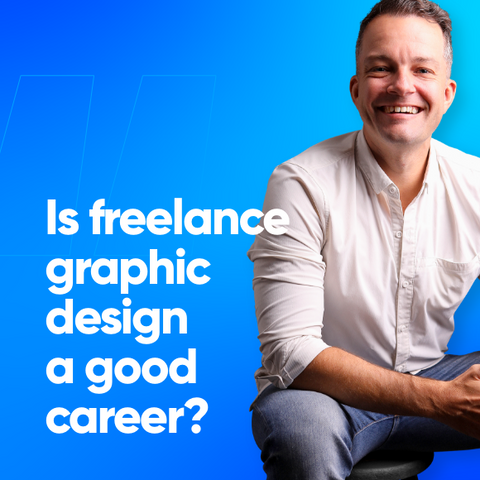 Is freelance graphic design a good career?
Then, pick one of these:
---
Third, try these:
---