Why Freelancing?
It is generally believed that freelancing is a side hustle and freelance jobs are low-priced gigs for students or underqualified freelancers who are in a race to the bottom. On the contrary, a freelancing career can very well be a full-time thing, and even surpass full-time earnings if done right, and consistently. Freelancing can be a rewarding career or a side hustle, however, you choose to pursue it. It combines the potential of a full-time income with the flexibility to work whenever and wherever you want. Freelancing requires problem-solving, quick thinking, and fast failing. Successful freelancers are like fixers, reeled in by prospective clients to solve something they can't do by themselves. This makes a freelancer an extremely powerful and influential individual. Irrespective of your service offering, with practice and experience, you can generate a full-time income on your own terms.
Watch How To Start Freelancing at Home
A preface
When we decide to work as freelancers both on the side or full-time, we are becoming entrepreneurs. While you are a freelancer, you have a freelance business and you are the CEO. Yes, you can dip your toes and see if it works for you, but in order to make a fruitful monetary and career-centric impact, you need to treat it as a business. All the things expected out of a business owner and a freelancer will be cardinal to your success.
Your bills and responsibilities don't vanish when you want to pursue your dreams. So if you are currently in a full-time job, I strongly recommend that you try freelancing part-time first, and save yourselves about 6 months of runway with respect to household, living, and resource costs (computers, subscriptions, rentals, etc.) before you jump in full-time. This will also give you the flexibility to experiment within your niche while ensuring a full-time income from your day job.
How to get started?
Getting started is one of the hardest parts, but since you are here, I can probably help you make a decision.
Defining your goals
When it comes to starting a business, defining your goals is the first step towards doing it. The same is true for a freelancing business as well. There are multiple reasons why someone would pursue being a freelancer. Do you want to start freelancing to supplement your full-time income or are you someone who wants to be a full-time freelancer by replacing your full-time income with the income from your business? You may also use freelance work as a stepping stone in your life, maybe as a buffer between jobs when relocating across continents.
When you have a top-level goal, you can have a basic idea of what you want freelance to enable for you. For me, freelancing allows me to have ownership over my time and helps me spend my time with my family while working on a schedule that works for me. This should also help you get an idea about how much money you wish to generate from your freelancing career, how many freelance clients you need to work with, and what you will need to charge them.
Don't forget to factor in the expenses that it'll take to run your business, month on month. If you need a selection of software to run your business, you will need to add that towards business expenses.
Finding a profitable niche
Let's say that you are a Graphic Designer by profession, and your primary skillset is in Adobe Illustrator and Photoshop.
By taking the time to select a niche, you are already putting yourself in a better hireable position with potential clients by appearing as a specialized candidate who prioritizes quality. When you are competing on quality, you are already in a far better place. You are competing on value, not price.
But, I can do so many things!
You are talented and there's no refuting that. When you niche down, you concentrate on just one thing and do that very well. As a designer, you can create social media posts, pitch decks, books, menus, logos and so much more. But if you focus on one, you can concentrate all your efforts on the small niche, grow your authority in the niche, and upsell your clients to other services after the initial one and lastly use your platform to expand your business later on. It's one of the essentials to getting new clients in the door as a new freelancer.
If you are still unsure about a freelance niche, read: 3 Best Freelance Jobs for Beginners in 2023
Identify your ideal clients
Your ideal client is out there but it will take some experimentation to seek them out. Finding that ideal client is like fishing for the first time, sometimes it's a high-level client with intense requirements (likely a big fish), and other times it's callous business owners (a piece of metal on the floor of the lake). But when you find that one perfect client, looking for your solution, at the price you want to charge, and collaborates with you effectively, now that's a catch!
Once you have about 6 months of experience as a freelancer, you can get a clear idea of the type of clients you want to work for and what kind of client relationships you wish to have.
It is then that you can focus on what you want from a prospective client and consequently fish in the places where they are present. With the niched-out offering, you are also increasing your chances to receive referrals. This may mean turning down some projects, but when you have a few clients advocating for you, that's when the momentum truly starts to pick up.
Pricing your services strategically
I strongly advocate strategic upfront pricing in all my freelance success collateral. Whether you are selling something that can be valued easily like a freelance writer charging by the word count or something more ambiguous like graphic design or video editing, you need to have a strategic pricing structure.
View Freelance Success Coaching, Books and Courses
First off, you start by calculating the cost of running your business. This includes the devices that you are using and their value over the course of one year, alongside any software or physical products that you need to create what you are creating. You will factor in the living expenses including but not exclusive to rent, medical (you are a freelancer, so you need your own insurance), car payment, etc. Once you have a number for the year, break it down into the monthly income required. Now based on the number of hours that you want to work in a single workweek, divide this number by the number of hours and you will have an hourly rate.
This rate is reflective of what you want to charge but you may be a little over the expected market rate for a similar service. In this case, if you choose to, you can adjust the number of hours per week or the total income as you deem fit. Remember, as long as it's not astronomical pricing, no service is too expensive. You need to compete on the value-added rather than pricing. If you are a beginner, however, you should keep your prices relatively affordable, because, in all likelihood, you are not solving highly-complex problems. But never, ever agree to do free work in the name of experience. Make sure that you always deliver for your clients in the best possible way, with a track record behind you, the price will be a lot more palatable to clients when they realize that you can get the job done!
Build a high-quality portfolio online
I can not stress the importance of a high-quality online portfolio enough because this is the heart of your freelance business. As early-stage freelancers, you are like small business owners but instead of having a store or a pop-up, this website is where you exist. This is the space that you and your work occupy on the internet and the hub for everything you do. As for the design and development, as long as web design isn't your main service, you can start with basic Shopify or WordPress websites.
A personal website isn't simply where your portfolio of work lives, but also allows potential clients to see you and your personality. When people can put a face to a product, their trust automatically increases. Alongside this, you should have testimonials from past clients and any colleagues or former bosses that you may have had.
A website not only displays what you have done and how good you are at it, but it also has the potential to win you more business as well. Combined with a blog section, a website can help you host blog posts and articles. This help establishes your credibility in the space and also rank in google-search when someone looks up specific terms. This is called SEO or Search Engine Optimization, it has its own nuances, but if you can strategically apply your writing skills, you can see tangible growth in inbound traffic. These blogs can then be used to create short-form content for social media channels like LinkedIn or TikTok depending on where your audience is.
Create sample projects or passion projects
Once you have your site fairly set up and you have all your current projects added onto the site, you shouldn't just sit hand in hand waiting for clients to come in. You need to constantly create new work samples alongside all the business outreach that you need to do. Try to build project briefs for sample freelance projects and create them as if you have been hired to create them for a client. You need to constantly produce new work in the niche that you have chosen, post it and broadcast it across channels.
This does a multitude of things for your freelance career and business goals. First, it lets your target clients know that you can do the job for them, which is the best reassurance you can provide to anyone posting a freelance job. This helps you build up your portfolio of work which in the long term brings in more clients. This portfolio of work can then be used on social for promotional assets and get inbound leads that way.
Choose your clients strategically
When you start your freelance business, you should think about strategically selecting your clients and not really say yes to anything and everything. This is why I suggested initially retaining your full-time job so that you have more luxury to choose the freelance work you want to start with as it will determine most of your future projects. In case you are starting out as a full-time freelancer, I would recommend downsizing your living costs as much as possible to explore the right kind of clients that you wish to work with.
You can find potential clients in a lot of ways including job boards, freelance platforms, and even freelancer communities on Reddit or Discord. It doesn't matter where or how a client finds you or you find them, what matters is if that client is the right one for you and is in line with where you want your business to go.
Pitching yourself
A highly underrated skill is the ability to pitch yourself. It's surprising to see how many freelancers overlook this cardinal skill when they start freelancing. Pitching yourself is important to getting new freelance clients, and combined with good writing skills, it's the sure-shot way to get shortlisted.
Your portfolio and proof of work come second to this when doing cold outreach. Yes, proficiency in your skill and niche of choice is absolutely vital but the ability to articulate what you do and how you do it is equally important as well. The basics of a strong pitch include a small elevator pitch statement that piques the interest of any reader or listener. My most commonly used line is "Freelance Graphic Designer at a Backup Singer's Price" this provides the prospect with a differentiated opening line while telling them what I do and it is affordable.
If reaching out through a freelance platform like Upwork or wiring a cold email, make sure that you do a little homework on the client's business, introduce yourself in a way that it highlights your expertise, lean on your strengths wherever necessary, answer any possible questions that they may have and mention relevant experience where it seems necessary.
View my Freelance Pitch and Proposal Template
When it comes to writing a pitch or a freelance proposal, there isn't a one size fits all kind of approach. However, a structured proposal, which is short and to the point always works better than a long unstructured piece of text. Remember your client is probably screening 100s of emails with 10s of proposals, with their own responsibilities, they do not have the time to get into many specifics or open any links. The first impression is really the last impression, so be strong, confident, and composed. The specifics come in at a later stage.
The next steps
So now that you have the basics of starting as a freelancer, you may think of the next steps. Based on where you are in your career, you may either be bustling with client requests to handle their projects or not have a clue where your first client is coming from. That's alright and most new freelancers are in the latter.
Armer with the basics above, you need to realize that you already have a lot more than you think. With the online world, getting started with an online freelance business is so much easier than it was even 10 or 15 years ago. Here's how you need to apply the strategies above, in a repeatable and iterative manner. You will start growing your online presence and in turn your freelancing business.
Cold Outreach
Cold outreach has come a long way from empty calls and impatient listeners on the other end of the line. Now it's all email based and getting more direct than ever. You need to build a short but concise cold outreach template that is modifiable as per client needs while providing a basic overview of you or your freelance business.
A good cold outreach template is similar to your pitch and proposal template but modified to be suitable for an email with a strong subject line and a clear call to action. Send this to potential clients who you think or know are interested in your freelance services. Don't be salesy though, talk like a human being, who is empathetic and can help them solve problems rather than simply taking their money.
Seek warm leads or hot referrals
Cold outreach is when a prospect doesn't have a clue about who you are and what you do. Warm leads or hot referrals are the ones where the client either knows one of your current clients and is in a similar space as your current client or someone who is closely related to your client and also is actively looking for a service like yours.
These leads or referrals won't be presented to you all the time. So you should ask the clients who you have a good relationship with to provide these to you if any. Chances are you may get an immediate lead to follow through on or even a direct introduction by your client. This brings so much more credibility to what you do, and the likelihood of closing the potential client goes up exponentially.
Start thinking about your personal brand
A freelance business is such a rewarding thing to build. There are thousands if not millions out there who wish to do what you are doing or even something similar. Building a personal brand is the ability to create a following by posting relevant content for your audience. That is why building in public can be beneficial for you, if not sharing insights about your niche might be a possible direction when it comes to the kind of input you need to put towards building a personal brand.
Depending on the kind of work that you do, the platform that you want your personal brand to begin on might differ. Just make sure that you share insights and posts at a semi-regular pace even when you are not actively pursuing a personal brand. There are a lot of people who are genuinely interested in being their own boss or doing remote work. You don't need to shill value constantly, just be true to yourself and make your presence known on social platforms professionally even if you are flourishing in your freelance business.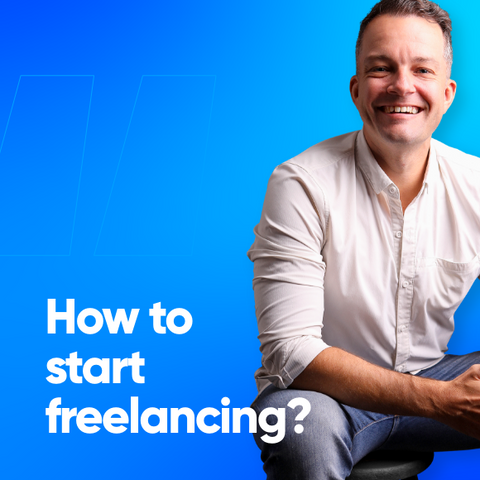 How to Start Freelancing?
Then, pick one of these:
---
Third, try these:
---