Vector Graphics: The Powerhouse of Infinite Creativity and Versatility
Prepare to dive into the vibrant world of vector graphics, where precision, boundless scalability, and artistic flexibility reign supreme. In this article, we embark on an exhilarating journey to uncover the essence of vector graphics - digital images crafted with the precise magic of geometric shapes, mathematical equations, and an unwavering commitment to pixel-perfect excellence.
Unleashing the Potential of Vector Graphics
At the heart of vector graphics lies a world of limitless possibilities. These images are meticulously designed using mathematical equations and a delightful array of geometric elements - lines, curves, shapes, and anchor points. Each geometric piece harmoniously dances with the others, creating a symphony of creativity that's breathtaking to behold.
Imagine a heartwarming heart shape, for instance. In the world of vectors, it's brought to life by combining two half-circle curves that elegantly converge at a singular point. Designers, like maestros of a visual orchestra, have the power to adjust this heart's shape with precision - they can nudge anchor points, sculpt the curves, or transform the path to craft an array of unique variations. The kind of precision and control gives vector graphics their well-deserved spot on the design stage.
Applications That Redefine Creativity
The applications of vector graphics are as boundless as the graphics themselves. They're not just a tool but a transformative force in various design disciplines. Here's a glimpse of where vector graphics dazzle:
Logo Design: Logos must be adaptable, scaling from tiny business cards to colossal billboards. Vector graphics ensure that the logo maintains its pristine quality, regardless of size.

Illustration: The digital canvases of illustrators are often graced by vector tools. These tools empower artists to create intricate, detailed artwork that retains its magic, regardless of scale.

Typography: Fonts are masterfully crafted as vector graphics, ensuring they radiate clarity and quality, regardless of size or style.

User Interface (UI) Design: The realm of UI design for responsive web and mobile platforms thrives on vector graphics, allowing designers to create icons and interface elements that adapt seamlessly to various screen sizes.

Infographics: When it comes to crafting informative infographics that demand versatility, vector graphics are the go-to. They allow designers to create captivating visuals that can be resized to fit diverse media.

Print Media: In the world of brochures, flyers, posters, and other printed materials, vector graphics reign supreme, ensuring that the final products exude professionalism, sharpness, and a refined aesthetic.
Vector Graphics vs. Raster Graphics: The Decisive Difference
Distinguishing vector graphics from their raster counterparts is paramount to understanding their magic. The crux of the matter lies in how these graphics represent images:
Vector Graphics: These are the virtuosos of the digital design realm, meticulously crafted through mathematical equations and geometric shapes. Their superpower? Infinite scalability, ensuring that the image remains pristine and sharp, no matter how much it's enlarged or reduced. Iconic vector file formats include SVG (Scalable Vector Graphics) and AI (Adobe Illustrator).

Raster Graphics: We have raster images on the other side of the design spectrum. These images are composed of a grid of pixels, where each pixel carries color information. Raster images often lose their grandeur and become pixelated when scaled up. Beloved raster file formats include JPEG, PNG, and GIF.
The golden rule here is to pick the right kind of graphic based on your specific design needs. V vector graphics are your steadfast allies for elements that require versatility and scalability, such as logos and icons. However, when dealing with photographs or complex, detailed imagery, the realm of raster graphics is where you'll want to set up camp.
Creating and Crafting with Vector Graphics: The Designer's Playground
To dive into the world of vector graphics, designers enlist the aid of vector graphics software. Esteemed tools such as Adobe Illustrator, CorelDRAW, Inkscape, and Affinity Designer provide an expansive arsenal of functions for sculpting, shaping, and weaving the magic of vector graphics. Designers can paint their canvases with an array of colors, gradients, and effects, elevating their creations to new heights.
These software marvels grant designers the ability to craft intricate compositions that can be easily tweaked, perfected, and refined. It's an art of experimentation, where different shapes, colors, and layouts are molded and sculpted until the final vision emerges. This level of creative freedom is the calling card of vector graphics, where the boundaries of art are limited only by the imagination.
The Infinite Frontier of Vector Graphics
Vector graphics are the rock stars of the design world. They promise unparalleled precision, versatility, and scalability. Whether you're a design virtuoso, an artistic luminary, or a savvy entrepreneur seeking a crisp, professional logo, vector graphics are your passport to a universe where creativity knows no bounds. Embrace vector graphics, and with every stroke, every anchor point, and every curve, you'll usher in a design renaissance where your creations shine, radiate, and take on a life of their own, no matter the medium, the canvas, or the size they call home. In a world where visual excellence is paramount, vector graphics stand as the steadfast champions of boundless creativity and enduring quality. So, don't just design; design with vectors and set your imagination free.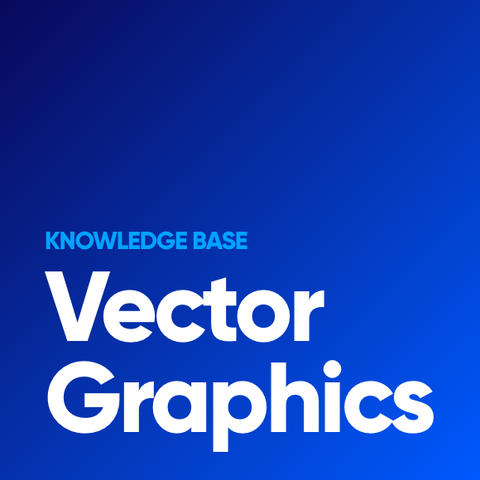 Vector Graphics