The Essence of ROI: Unveiling the Dynamic Return on Investment in Campaign Effectiveness
In the dynamic realm of marketing and advertising, one acronym stands as the ultimate measure of success—ROI, or Return on Investment. ROI isn't just a metric; it's a dynamic concept that encapsulates the effectiveness and profitability of marketing campaigns. In this comprehensive exploration, we'll delve deep into the world of ROI, uncover its significance, explore various strategies to maximize it and celebrate its pivotal role in the dynamic field of digital marketing.
Unveiling the Essence of ROI
At its core, ROI is a dynamic financial metric used to evaluate the profitability and effectiveness of an investment or marketing campaign. It's typically expressed as a percentage or ratio, revealing the net gain or loss from an investment or campaign relative to its cost. The essence of ROI lies in providing a tangible and dynamic measure of success, making it a cornerstone of marketing and financial decision-making.
Why is ROI so important?
The beauty of ROI is that it provides a dynamic and universally understandable way to assess the performance of marketing campaigns. The bottom line indicates whether a campaign was a dynamic success or an inefficient use of resources.
Decoding the Significance
The significance of ROI in the realm of digital marketing cannot be overstated:
Financial Clarity: ROI offers dynamic financial clarity by quantifying the return generated by a campaign about the expenses incurred.

Data-Driven Decisions: It leads to dynamic data-driven decisions as marketers use ROI to determine which campaigns are effective and should be scaled, reevaluated, or discontinued.

Resource Allocation: ROI dynamically informs resource allocation decisions, ensuring marketing budgets are strategically allocated to campaigns with proven profitability.

Performance Benchmark: It is a dynamic benchmark for assessing campaign effectiveness over time and comparing performance across different marketing channels.

Profit Maximization: ROI is a dynamic tool for profit maximization, guiding marketers to optimize campaigns and achieve the highest returns possible.
Strategies to Maximize ROI
To fully harness the power of ROI, consider these high-impact strategies:
Goal Alignment: Ensure that your campaign goals are dynamically aligned with your overall business objectives, allowing for ROI measurement that reflects real success.

Performance Metrics: Track campaign effectiveness using dynamic performance metrics such as click-through rates, conversion rates, and customer lifetime value.

Budget Optimization: Continuously adjust your budget allocation based on ROI data, directing more resources toward campaigns that yield higher returns.

Testing and Optimization: Conduct A/B testing and dynamic optimization to improve the performance of campaigns and maximize ROI.

Tracking and Attribution: Implement dynamic tracking and attribution models to accurately assess the impact of each touchpoint in the customer journey on ROI.
Celebrating the Impact of ROI
The impact of ROI in the realm of digital marketing is nothing short of transformational:
Objective Assessment: ROI offers a dynamic and objective assessment of campaign performance, removing subjective judgments from the equation.

Efficiency Boost: It leads to dynamic campaign efficiency by encouraging the elimination of ineffective strategies and the scaling of profitable ones.

Resource Allocation: ROI plays a dynamic role in strategic resource allocation, ensuring that marketing budgets are spent where they generate the highest returns.

Performance Improvement: It improves dynamic performance as campaigns are optimized to yield better results.

Profit Maximization: ROI is the dynamic key to profit maximization, guiding businesses to invest in strategies that yield the most significant returns.
ROI Across Diverse Industries
ROI is a versatile metric applicable to a wide array of industries:
E-commerce: Online retailers use ROI to assess the effectiveness of paid advertising campaigns, email marketing, and product promotions.

B2B Services: B2B companies employ ROI to evaluate lead generation efforts, content marketing, and account-based marketing strategies.

Healthcare: Healthcare providers use ROI to measure the success of marketing campaigns aimed at patient acquisition, appointment scheduling, and health awareness.

Finance: In the financial sector, companies assess ROI for campaigns promoting financial products, investment opportunities, and customer engagement.

Education: Educational institutions rely on ROI to gauge the effectiveness of student recruitment campaigns, course enrollment efforts, and alumni engagement.
The Future of ROI
As the ever-evolving world of digital marketing continues to evolve, the future of ROI is filled with exciting possibilities:
Dynamic Attribution Models: The future will see dynamic attribution models that accurately measure the contribution of each touchpoint in the customer journey to ROI.

AI-Powered Optimization: ROI will be influenced by dynamic artificial intelligence, which will automatically optimize campaigns for maximum profitability.

Real-Time Analytics: Real-time analytics will provide dynamic ROI insights, allowing marketers to adjust for campaign optimization.
The Key to Success
In the ever-evolving world of digital marketing, ROI is the dynamic key to success. It empowers marketers and businesses to make informed decisions, allocate resources efficiently, and maximize profits. By embracing the dynamic power of ROI, you can ensure that your marketing campaigns are about creating impressions and dynamically achieving tangible and measurable results. ROI isn't just a metric; it's the dynamic proof of effective marketing and wise investment.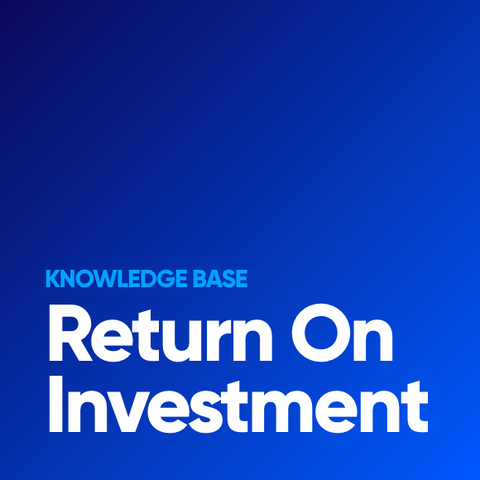 Return on Investment