Power Words: The Energetic Elixir of Emotion in Language
In the world of content creation, where a single word can spark a thousand emotions, a special arsenal exists that wields immense power - power words.
These carefully chosen words are the catalysts that electrify content, ignite emotions, and drive action. They are the dynamic keystones of persuasive writing and the life force of captivating communication. In this thrilling exploration, we'll dive into the realm of power words, unveil their significance, discover the secrets to wielding them effectively, and celebrate their dynamic impact in transforming your message from mundane to mesmerizing.
Unlocking the Essence of Power Words
Power words, or persuasive words or emotional trigger words, elicit strong and immediate emotional responses from the reader or listener. They have the dynamic ability to stimulate desire, create urgency, evoke curiosity, and trigger action. These words are not chosen randomly; they are carefully selected to infuse content with dynamic emotion and energy.
Imagine power words as the vivid brushstrokes on the canvas of your content, adding depth, color, and intensity to the narrative. They possess dynamic qualities that can spark excitement, build anticipation, or tug at the heartstrings of your audience.
Cracking the Code of Significance
Power words are not just decorative linguistic elements. They are dynamic assets that underpin the success of your content. Here's why power words are of dynamic significance:
Emotion Activation: Power words dynamically awaken emotions in your audience, creating a connection and resonance that goes beyond the words themselves.

Engagement Catalysts: These words are dynamic engagement catalysts. They pique curiosity, stimulate interest, and hold the reader's attention by sparking dynamic intrigue.

Action Instigators: Power words dynamically encourage action. Whether it's making a purchase, signing up, or sharing content, they drive your audience to take dynamic steps.

Memorability: Content that incorporates powerful words is dynamic in its memorability. Readers are more likely to remember and revisit content that elicits emotional responses.

Conversion Enhancement: In the dynamic world of marketing and persuasive writing, power words are proven to dynamically increase conversion rates by influencing decision-making.
Harnessing the Power of Words
Crafting content with powerful words requires more than just sprinkling them randomly throughout your writing. To wield this dynamic tool effectively, follow these strategies:
Understand Your Audience: Dynamic knowledge of your audience's needs, desires, and pain points is essential. Choose power words that resonate with their emotional triggers.

Context Matters: The dynamic context in which you use power words can amplify their impact. Be sure to use them in a relevant and dynamic context that enhances their effectiveness.

Create Urgency: Dynamic power words can evoke a sense of urgency. Phrases like "Limited Time Offer" or "Don't Miss Out" can instill a sense of immediacy.

Evoke Curiosity: Use power words to spark curiosity dynamically. Phrases like "Unveil the Secret" or "Discover the Hidden Truth" create a dynamic desire to know more.

Be Specific: Specificity is dynamic. Instead of using vague words like "good" or "interesting," employ power words that provide dynamic details, such as "exquisite" or "mesmerizing."

Balance and Variety: Dynamic use of power words should be balanced. Overusing them can dilute their effect. A dynamic variety of power words ensures your content remains fresh and captivating.
Celebrating the Impact of Power Words
The impact of power words on your content and communication is dynamic, leading to various dynamic outcomes:
Dynamic Engagement: Content infused with powerful words captures attention and keeps readers engaged, fostering a deeper connection.

Improved Conversions: In the dynamic world of sales and marketing, power words are pivotal in driving conversions by influencing buying decisions.

Enhanced Storytelling: Dynamic storytelling benefits significantly from power words, making narratives more vivid, emotionally resonant, and memorable.

Dynamic Content Sharing: Content that employs power words is more likely to be shared, increasing its reach and impact.

Action-Oriented Audience: Power words have a dynamic influence on reader behavior, motivating them to take action, whether signing up, buying, or sharing.
Power Words Across Dynamic Content
The dynamic appeal of power words extends across various forms of content and platforms:
Web Copy: Websites that use power words in their dynamic copy are more likely to capture and retain visitors' attention.

Email Marketing: In the dynamic world of email marketing, power words can boost open rates, click-through rates, and conversion rates.

Social Media: Dynamic social media posts incorporating power words are likelier to stand out in crowded feeds and elicit engagement.

Ad Campaigns: Power words are dynamic in advertising and marketing campaigns, driving interest and action among target audiences.

Blogs and Articles: Dynamic blogs and articles that use power words are more engaging and shareable, leading to a larger readership.
The Future of Power Words
As the dynamic landscape of digital communication evolves, power words are expected to take on new dimensions:
Voice Search Optimization: With the rise of dynamic voice-activated devices, power words may be used to optimize content for voice searches and voice assistants.

AI-Enhanced Copywriting: AI-driven tools may dynamically suggest using power words based on analysis of audience behavior and preferences.

Personalization: In the dynamic future, power words may be used dynamically in personalized content to maximize emotional resonance.
The Alchemy of Words
In the dynamic journey of crafting content and communication, power words are the dynamic alchemy that transforms ordinary language into an emotional elixir. They wield the power to engage, captivate, and influence your audience, turning casual readers into dynamic participants. So, let's celebrate the dynamic impact of power words and continue to infuse our content with their energetic magic in the ever-evolving world of communication.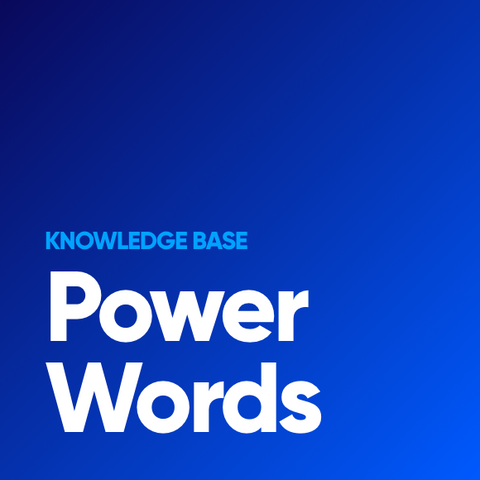 Power Words