Keywords: The Language of the Internet
In the vast and ever-evolving digital landscape, with millions of websites vying for attention, keywords connect users and the content they seek. Keywords, whether singular words or phrases, serve as the language of search engines, guiding users to their desired information. In this comprehensive exploration, we'll dive deep into keywords, uncovering their significance, understanding their role in Search Engine Optimization (SEO), and exploring the dynamic and ever-changing nature of this fundamental element of the digital realm.
Introduction to Keywords
Our journey into the world of keywords begins with exploring their fundamental nature. In this section, we'll decode keywords, their essential role in online search, and their significance in shaping the digital landscape.
Keywords Defined: We'll start by demystifying keywords and how they function as the linchpin in digital communication. We'll also discuss the differences between single keywords and keyword phrases.
The History of Keywords: Keywords have evolved alongside the internet's growth. We'll delve into their history, from early web usage to their pivotal role in the birth of SEO.
Types of Keywords: We'll explore the distinction between short-tail keywords, which are concise and broad, and long-tail keywords, which are specific and extended.
The Significance of Keywords
Keywords extend their significance far beyond being mere search queries. This section will delve into their multifaceted role in the digital ecosystem, encompassing user experience, SEO, and content creation.
Keywords and User Experience: We'll discuss how keywords guide user intent and set expectations for web content, enhancing the overall user experience.
Keywords and SEO: This section will highlight the foundational role of keywords in SEO, touching on essential concepts such as on-page optimization.
Keywords and Content: We'll explore how keywords ensure content relevance and how they drive the content creation process.
The Dynamics of Keyword Research
The world of keywords is dynamic and ever-evolving. This section will explore the keyword research process, the tools and techniques employed, and the strategic considerations underpinning successful digital campaigns.
Keyword Research Basics: We'll provide an overview of the keyword research process from inception to execution. We'll also introduce the fundamental keyword research tools and their significance.
Keyword Selection: This part will explore the delicate balance between keyword relevance and competition. It will also demystify essential keyword metrics such as search volume and difficulty.
User Intent and Keyword Mapping: Here, we'll focus on understanding user intent and how it informs the selection of keywords. We'll also explore the strategic alignment of keywords with specific website pages, known as keyword mapping.
The Role of Keywords in Marketing
Keywords are at the heart of digital marketing. This section will explore their role in various marketing channels, from pay-per-click advertising to content marketing.
Keywords in PPC Advertising: We'll discuss the symbiotic relationship between keywords and pay-per-click advertising. This part will also touch on crafting compelling ad copy with targeted keywords.
Keywords in SEO: The role of keywords in driving organic search traffic and their interaction with search engine algorithms will be a focal point.
Keywords in Content Marketing: This segment will explore how keywords ensure content relevance and promotion, thus playing a pivotal role in content marketing strategies.
Emerging Trends and Challenges
The world of keywords is far from static; it's in constant flux. In this section, we'll dive into emerging trends, challenges, and the future of keywords in the digital landscape.
Semantic Search: We'll discuss how semantic search revolutionizes how search engines interpret user queries and the role of Natural Language Processing (NLP).
Voice Search: The growing importance of voice-activated search and the consequent shift towards more conversational and long-tail keywords will be explored.
Keyword Challenges: We'll address common challenges such as keyword cannibalization and keyword stuffing, offering strategies to overcome them.
The Future of Keywords: Here, we'll consider how artificial intelligence is transforming the keyword landscape and explore the potential for personalization in search results.
Keyword Strategies for Success
In the final section, we transition from theory to practice, offering practical insights for digital marketers, content creators, and SEO enthusiasts on leveraging keywords effectively.
SEO Best Practices: We'll discuss the strategic placement of keywords within content and the delicate balance of keyword density for optimal SEO.
Content Creation: This part will focus on creating content that aligns with keyword strategies and optimizing existing content to maximize keyword impact.
Keyword Monitoring and Adaptation: We'll delve into the importance of monitoring keyword performance and adapting strategies in response to changes in the digital landscape.
The digital realm thrives on the power of keywords, the invisible threads that weave together users, content, and search engines. As you navigate this exploration of the dynamic world of keywords, you'll gain a profound understanding of their pivotal role in the digital landscape and how they shape the ever-evolving internet. Whether you're a digital marketer, a content creator, or simply a curious internet explorer, this journey into the world of keywords will equip you with the knowledge and insights to make the most of your digital endeavors, now and in the future.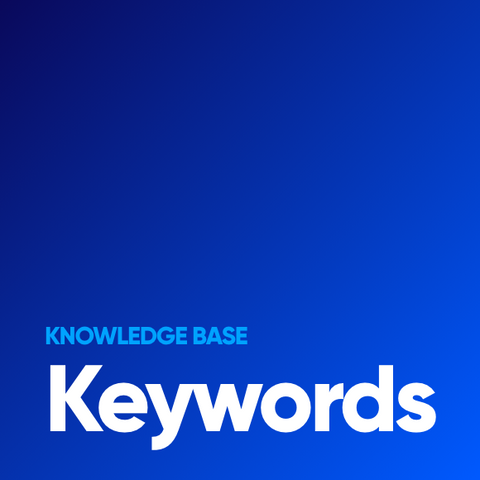 Keywords