Grid System: Structuring Chaos into Harmonious Visual Melodies in Graphic Design
Buckle up, design aficionados! Let's embark on a rhythmic journey where chaos gets entwined with order, birthed from the meticulous matrices of the Grid System! A symphony of straight lines, a ballet of balanced blocks – here's where creative clutter orchestrates into harmonious visual melodies, ensuring every pixel and hue dance to a tune of structured serenity in the vast graphic design arena!
Navigating through the Vibrant Chaos
The sprawling graphic design canvas teems with colors, shapes, types, and images, each element a vivacious dancer pulsating with potential, awaiting direction. Enter the Grid System – not merely a structure but a dynamic conductor, harmonizing each visual note into a coherent, captivating composition.
In the visual cacophony of graphic elements, the grid silently, yet potently, infuses order. Imagine a rock band without a setlist, musicians tuning to their whims – the music, while spirited, drowns into a chaotic crescendo. The grid, in this context, is your setlist, your guide, ensuring each visual component finds its rightful place, its rhythm in the design melody, crafting visuals that don't merely see but are profoundly experienced.
Harnessing the Past: The Grid's Historical Significance
Traveling through the corridors of design history, we unveil the omnipresent, ever-evolving role of the grid system. The Swiss Design Movement, Bauhaus, and even the ancient scripts of scribes – wherever your eyes wander, the grid has left its subtle yet indelible mark, steering clarity through structured visual paths, ensuring content isn't just displayed but intrinsically communicated.
Swiss Design, renowned for its meticulous order and clarity, saw grids as a backbone, a silent structure where type and image danced in impeccable harmony, narrating visual tales that were not just seen but absorbed, resonating in the viewer's perception and memory. Thus, while seemingly a modern tool, grids thread through our visual history, showcasing that organized structure and expressive creativity have always danced hand in hand.
Valuable Insights from the Masters
Listening to seasoned designers, one uncovers the grid not as a mere tool but as a silent partner in the creative process. Experienced designers wield grids with a nuanced understanding, recognizing when to adhere, bend, and break away, ensuring the grid serves the design, not vice versa.
Expert designers often whisper of the grid as an intuitive guide, a structure that, with experience, embeds into one's creative process, silently steering choices towards visual compositions that speak with a balanced, coherent, and impactful voice.
Grid System: The Invisible Maestro
Invisible yet omnipresent, the grid system guides with an unseen hand, steering the chaos into structured harmonies. Its columns, alleys, and margins are the unseen threads weaving through the fabric of design, forging a scaffold where creativity doesn't scatter but forms flows, and flourishes into a united visual entity.
It's akin to an eloquent ballet, where each dancer – whether text, image, or color – knows their position, movement, and pause, ensuring the varied performance moves and breathes as one. Thus, every pixel every color block finds its stage, its spotlight within the grid, contributing to a design that resonates with balanced, structured harmony.
Unlocking Creativity within Constraints
Paradoxically, the very structure that the grid imposes burgeons creativity rather than stifling it. Think of it as a playground defined by its boundaries, yet within, the games, the adventures, and the stories that unfurl are boundless. The grid delineates the sandbox within which the castle of creativity is erected not as a disjointed anomaly but as a coherent, contextual entity that speaks to the viewer with clarity and cohesion.
Armed with the grid, designers navigate through the enthralling complexity of visual elements with a roadmap that ensures every creative choice, from the bold to the subtle, finds its resonant space within the design. The grid is that silent composer, ensuring each note, from the dramatic to the gentle, is heard, felt, and experienced with others, narrating a visual story that's not scattered but smoothly sequenced.
Case Studies of Grid Magic
Consider the visual allure of a magazine spread, where text, images, and white space converge into a rhythmic visual melody. Peek beneath its visual surface, and the grid pulsates, unseen yet potently guiding every element, ensuring visual consistency across pages and providing the reader with an unobstructed, coherent visual journey.
Or ponder upon a visually rich website where multimedia elements cascade yet never collide. Again, the grid, structuring each element, ensuring seamless navigation, and intuitively guiding the user's journey through digital landscapes while maintaining an aesthetic integrity binds the varied elements into a singular visual experience.
Grids at Your Fingertips: A Practical Guide
Roll up your design sleeves and plunge into the digital canvas, where grids await to transform your creative chaos into structured visual symphonies. Software like Adobe InDesign, Illustrator, or even web-specific platforms present grid tools not as constraints but as liberating structures where your creative choices find a harmonious stage.
Employ grids to delineate your design space, allowing each element to find its resonant position, from the bold headline to the subtlest background hue. Remember, grids aren't rigid rulers but flexible guides, adaptable and modifiable to the unique rhythms of your design melody.
Navigating Challenges: Pitfalls and Solutions in Grid Design
Embarking on the grid journey isn't without its hurdles. Common pitfalls might include over-rigid adherence, where the grid becomes a cage rather than a guide, stifling the free flow of creative expression. Or the other extreme, where the grid is too loosely interpreted, resulting in a design that, while aiming for creativity, collapses into visual anarchy.
The solution lies in understanding the grid as a dynamic ally. It's a structure that serves your design, bending and shifting to ensure your creative expressions find a balanced, coherent stage, ensuring your visual story is narrated with clarity and impactful resonance.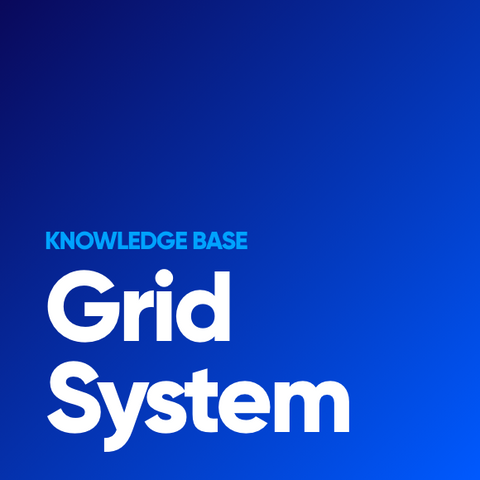 Grid System