Dwell Time: The Energetic Pulse of Web Engagement
In the dynamic and ever-accelerating realm of digital marketing and content creation, success hinges on capturing and maintaining your audience's attention. Enter the often-underappreciated but incredibly significant metric known as dwell time. Dwell time is the energetic pulse of web engagement—the duration a visitor spends on a webpage before returning to the search results. In this thrilling exploration, we will delve into the world of dwell time, unravel its implications, understand how to improve it, and celebrate its role as a dynamic indicator of content quality and audience captivation.
Cracking the Code of Dwell Time
Dwell time, sometimes called "dwell on page" or "dwell duration," is the amount of time a user spends on a webpage from the moment they click on a search result until they return to the search results page or navigate to a different website. It's a dynamic measurement that reflects the engagement and satisfaction a visitor experiences while exploring your content.
This metric differs from bounce rate, which records the percentage of visitors who navigate away from your website without interacting with other pages. Dwell time, on the other hand, measures the time someone remains actively engaged with your content, indicating their level of interest and the dynamic appeal of your webpage.
Understanding the Energetic Significance of Dwell Time
Dwell time is more than just a metric on a digital dashboard. It's a dynamic reflection of how well your content aligns with your audience's needs and expectations. Here's why dwell time is so significant:
Content Quality Indicator: Dwell time is a dynamic gauge of content quality. Longer dwell times usually indicate visitors find your content valuable, engaging, and informative.

User Engagement: The time a user spends on your webpage correlates with their level of engagement. Dynamic, captivating content encourages users to stay longer.

Search Engine Ranking: Search engines like Google consider dwell time when ranking pages. High dwell times can be a dynamic signal to search engines that your content is valuable and relevant.

Reduced Bounce Rate: Longer dwell times often correspond to lower bounce rates. When visitors find what they're looking for, they're less likely to leave immediately.

Content Optimization: Analyzing dwell time can provide dynamic insights into which pages and content perform well and which may need improvement.
Elevating Dwell Time: Strategies for Success
Now that we've deciphered the significance of dwell time, let's explore dynamic strategies for enhancing this essential metric and ensuring your content captivates your audience:
Create Compelling Headlines: Dynamic headlines that pique curiosity and clearly convey the content's value can entice visitors to explore further.

Deliver High-Quality Content: Your content should be informative, engaging, and well-structured. Use dynamic visuals, compelling storytelling, and authoritative sources to enhance quality.

Optimize Page Load Speed: Slow-loading pages can lead to frustrated users who won't stay long. Dynamic website performance is key to retaining visitors.

Improve Readability: Dynamic formatting with short paragraphs, bullet points, and clear headings can make your content more scannable and reader-friendly.

Strategically Use Multimedia: Dynamic visual and interactive elements, such as images, videos, infographics, and interactive tools, can enhance user engagement and extend dwell time.

Internal Linking: Encourage visitors to explore more of your content by dynamically incorporating relevant internal links to other pages on your website.

Mobile Optimization: In the mobile-centric era, ensure your content is dynamic and user-friendly on smartphones and tablets. Mobile optimization can positively impact dwell time.

Engaging Call to Action (CTA): A well-placed, dynamic CTA can encourage users to explore other pages or take a specific action, extending their dwell time.

Decrease Page Load Time: Dynamic optimization of your site's loading speed can make a significant difference in keeping visitors engaged and extending dwell time.

User-Focused Content: Always create content with your audience in mind. Understanding their needs and preferences will guide you in producing dynamic content that resonates with them.
Celebrating Longer Dwell Time
Longer dwell times are a cause for celebration in the dynamic world of web analytics. They signify that your content is engaging and valuable to your audience. Here are a few reasons why a longer dwell time is worth celebrating:
Increased Content Consumption: Longer dwell times often result in visitors exploring more of your content, leading to a dynamic, richer user experience.

Improved SEO: Search engines reward dynamic websites with longer dwell times. High-quality content that keeps users engaged can lead to better search engine rankings.

Enhanced Brand Trust: Longer dwell times indicate that your content is trustworthy and reliable. Visitors feel confident in your brand's expertise and credibility.

Reduced Bounce Rates: Dynamic content that engages visitors and keeps them on your site effectively decreases bounce rates.

Higher Conversion Rates: Extended dwell times can lead to increased conversions, such as signing up for a newsletter, making a purchase, or requesting more information.
The Dynamic Landscape of Dwell Time
Dwell time isn't confined to webpages alone; it also extends to other digital realms. Here's how dwell time is relevant across various platforms:
Video Content: Dwell time can be a dynamic metric in the world of video content. It reflects the length viewers engage with your video, demonstrating their level of interest.

Social Media: The amount of time users spend on your social media posts, videos, or stories is a dynamic indication of the content's appeal and engagement.

Email Marketing: In the dynamic world of email marketing, dwell time measures how long recipients engage with your email content before taking action.
The Future of Dwell Time
As technology and user behavior evolve dynamically, the concept of dwell time is expected to become even more influential in the digital landscape:
Voice Search and Dwell Time: As voice search gains prominence, users might spend more time engaging with voice-activated content, affecting dwell time measurements.

Interactive Content: The rise of interactive content, such as quizzes, calculators, and games, will introduce dynamic opportunities to measure and improve dwell time.

AI-Driven Personalization: Dynamic content personalization based on user preferences may further extend dwell time and enhance the user experience.
The Quest for Engagement
In the dynamic digital world, dwell time is a compass pointing the way to audience engagement and content success. It's a dynamic indicator that reflects the quality and relevance of your content, and it's worth celebrating when it soars. So, let's raise a toast to dwell time as the dynamic pulse of web engagement, and strive to continually captivate and energize our audience in the ever-evolving digital landscape.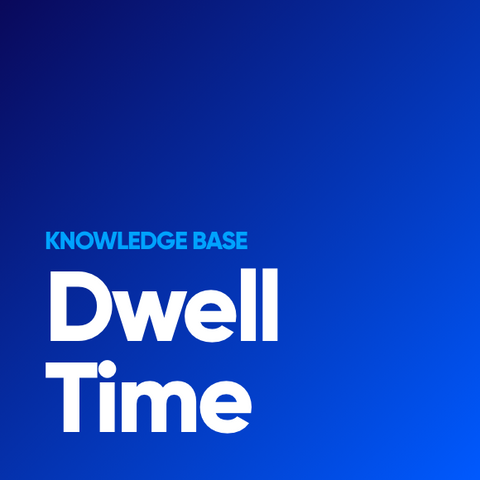 Dwell Time